Check out Wynand's new video part and then read an interview with him below.

The last time you had an interview in the mag you told us about being a focus puller in the film industry and working really long hours. Tell us about your job at the moment, what have you been shooting and what are your work logistics around the project?
Yeah I'm still in the Industry, working as a camera operator / focus puller on a bunch of different Local TV dramas. Most recently is 'Arendsvlei' an Afrikaans drama series showing 3 times a week. We are wrapping up Season 2 as lockdown ends and we able to go back to work, and then starting season 3 two weeks after that for a 12 month contract. We work 5 or 6 days a week, 12 hours a day.

How long have you been filming for your new video part, and on average how often do you go out to try and get clips versus just rolling on your days off?
Some of the footage in 'Bro Cam' is as old as almost 3 years ago to be honest. Having such heavy work hours, I try at least chill skate one day on the weekend and then on the other day try go hard wherever we go, or if I have an idea in mind, we will go and try get that. There were a few weeks and months I was out as I have had a number of injuries over this period, anything from rolled ankles, a torn calf muscle, a fractured rib, slight concussion, bursitis sac on my hip, constant back and neck issues from old recurring injuries, and..and..and haha!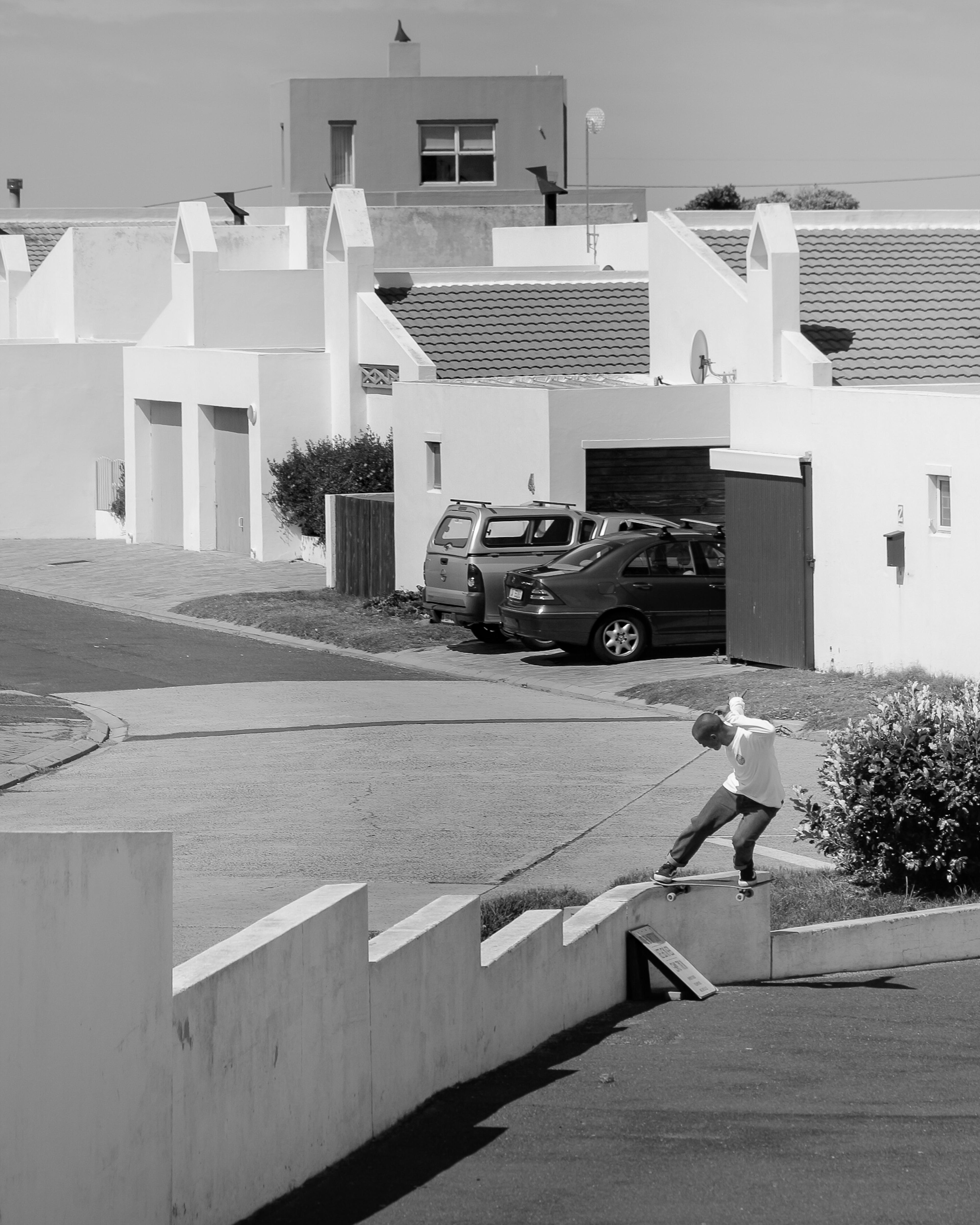 Photo by Phoenix Jurgens
When it's the off-season during winters you've been doing a lot of tattoos. Tell us about that?
Yeah, I try to keep myself busy with freelance hand-poke tattooing when I don't have film work. Although, 'Arendsvlei' has kept me quite busy over the winter season for the past 2 years, so there was no need really for tattooing as an income, so I have been doing random ones here and there just for close homies, or special requests from actors or crew I work with. The tattooing thing started as a hobby just tattooing homies, I learnt some stuff from Tyler Murphy and Seamus Casserly, as well as Joubert (Session filmer) who kind of showed me the ropes and allowed me to tattoo him as one of the first homies. I started getting a lot of requests from strangers too though. So Shaun Dean offered to host me at his old shop and train me up with all the medical hygeine and apprentice type stuff. I also got an offer from another friend Baden, who opened his own shop in Kenilworth, to work there as well as do freelance jobs. A lot of things have changed and we're all still very well connected, but we don't work together anymore. Thanks to them for allowing me into their world and giving me a chance when I don't have film work.
If someone wants to hit you up for a tattoo, how can they contact you?
They can follow my page @flow_pokes and have a look at some of my work on instagram, although it hasn't been updated since very long ago haha. DM for any info or to make an appointment and we can take it from there.

Photo by Grant McLachlan
You went to Johannesburg for the House of Vans last year and you were due to be part of the JHB trip feature in Grey Skate Mag. But things didn't go according to plan, tell us about what happened in JHB?
Haha yeah that was funny, but also kak at the same time. Well, I arrived at the event on the Saturday, after an entire week of stressing to get someone to work in my place. I luckily found someone at the last minute and I was on a plane that Saturday morning for the event. So I get to the event, I'm still kak tired as I worked a night shoot the night before and had to fly at like 5 or 6 AM. As I arrived I warmed up a bit on the obstacles that were there, and it was my favorite kind of shit to skate too! An hour into the event I'm standing on the side just chatting to Lee, as I'm digging in my moonbag, then a board comes flying out the quarter pipe and hits me right in the forehead. I go down and out for like a sec or 2 and then had mild concussion for the entire weekend. I thought I was ok until I fell down a small set of stairs just walking. The next day I tried skating street with the guys, but I was so off balance, like vertigo for 2 days. I was so bummed out as well that I couldn't roll to my full or even just some of my potential. It was still an amazing event and I had a rad time meeting and hanging with the guys and girls from Europe. Mostly I was just bummed that I couldn't get any content for that video and article.
You purchased a camera a while back, and you and Shaun Dean have been filming each other a bunch, what camera did you get and how often do you film skating yourself?
Yeah so basically I decided to get a camera just for skating. Shaun and I went half and half at first, but eventually I gave his half back to him as I use it way more than him. I already had a small HD camera for fisheye stuff though. The new one is a Sony EX1. The reason we got the camera is because Joubert who is usually the filmer on missions, goes away on a lot of other trips, so we don't always get to roll together. My time being very limited to skate and Joubert's busy schedule made it hard to always film together. I film as much as I can if I see something worth filming or if someone asks me to film them I will. I have filmed a lot of Shaun's footage for his new part coming soon. Also, if we're on missions and Joubert is not there, my camera is always with me.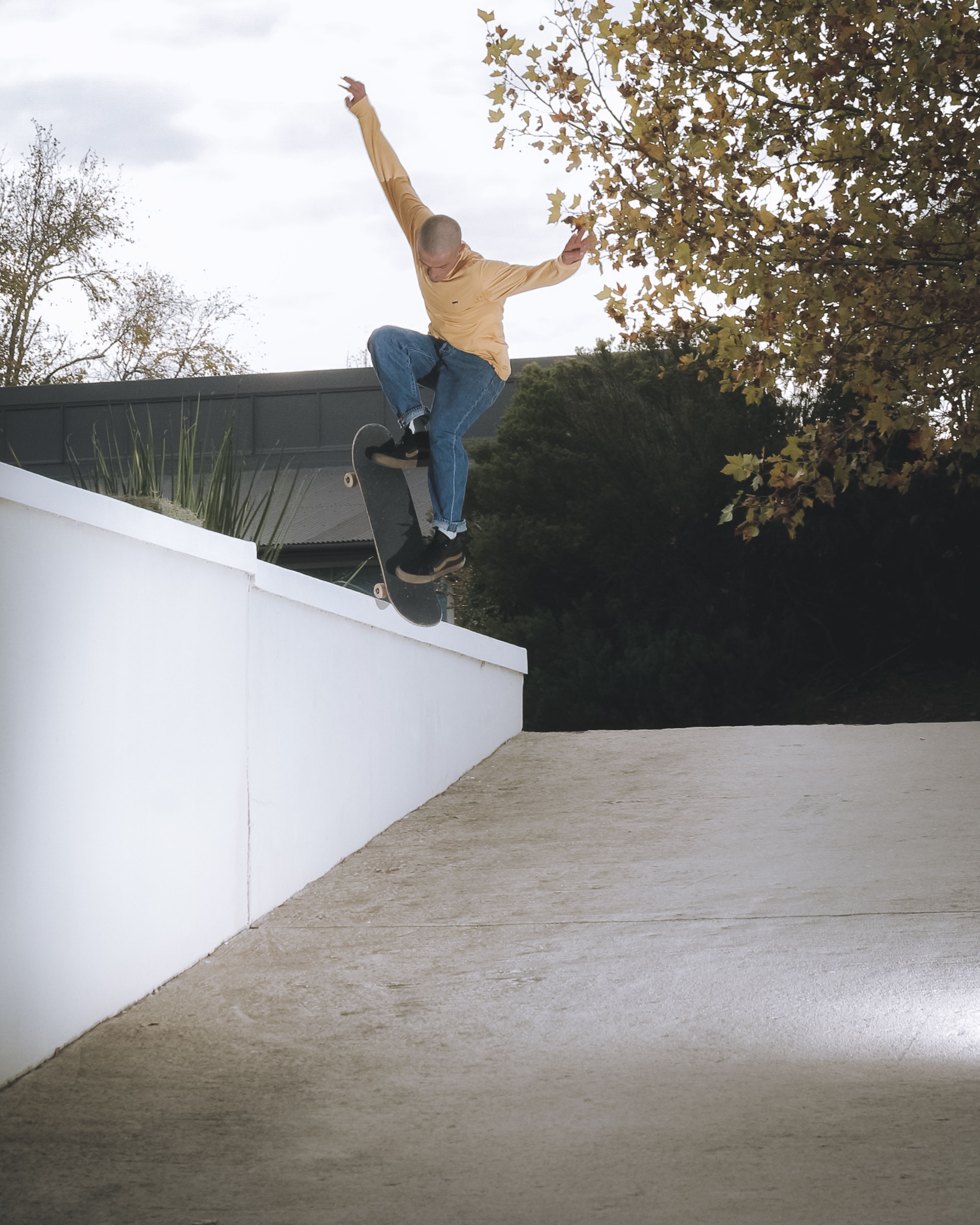 Photo by Phoenix Jurgens
You have some footage in there from Durban and Pietermaritzburg, tell us about your trip up to KZN?
I actually decided to take 2 months off of work in June and July 2019 to make some skate trips and film a bit. I first went up to PE with Marcel, Pieter, Joubert, Mel and Yann. We got some lekker clips there, mostly for Vans content, and some for my part. My trip was fucked up though, by a calf muscle tear a couple days in. That luckily healed quite quickly and I managed to make a plan with Shaun Dean to go to KZN for 2 weeks at the end of my break. We stayed at homies' places, Simon, Mason and at Shaun's parents' house as well. Forever grateful for their amazing hospitality! That was one of the most fun and most productive trips I've been on, as it was only Shaun and I, and some days Simon Stipcich joined us. We could get a shitload done as we were out the house every day at 7AM. Both Shaun and I try to live a sober life, so we froth to get out and roll as soon as that sun comes up and we both enjoy similar spots.
Tell us about why you called the part 'Bro Cam' and how many people contributed footage?
So at first I was going to call it B-Cam, as that is my role at work and that is what I was busy with during this period of filming. I realised that only film industry people and close homies would get it. Joubert suggested 'Bro Cam' to me. The reason for the name was basically because a lot of the footage was filmed by skaters who don't really have much experience using a camera. So kind of like a 'dad cam' vibe, but not that bad haha. If I had a trick in mind I would ask any homie on the mission who was down to film, to film. Some homies can actually film pretty well, hence some of the good footage in there. Marcel Maassen, Shaun Dean, Justus Kotze, Phoenix Jurgens, Melissa Williams, Joubert van Staden, Simon Stipcich, Marcel Terblanche and Clinton Theron, I can't thank you guys enough for filming me, sometimes for hours at a time.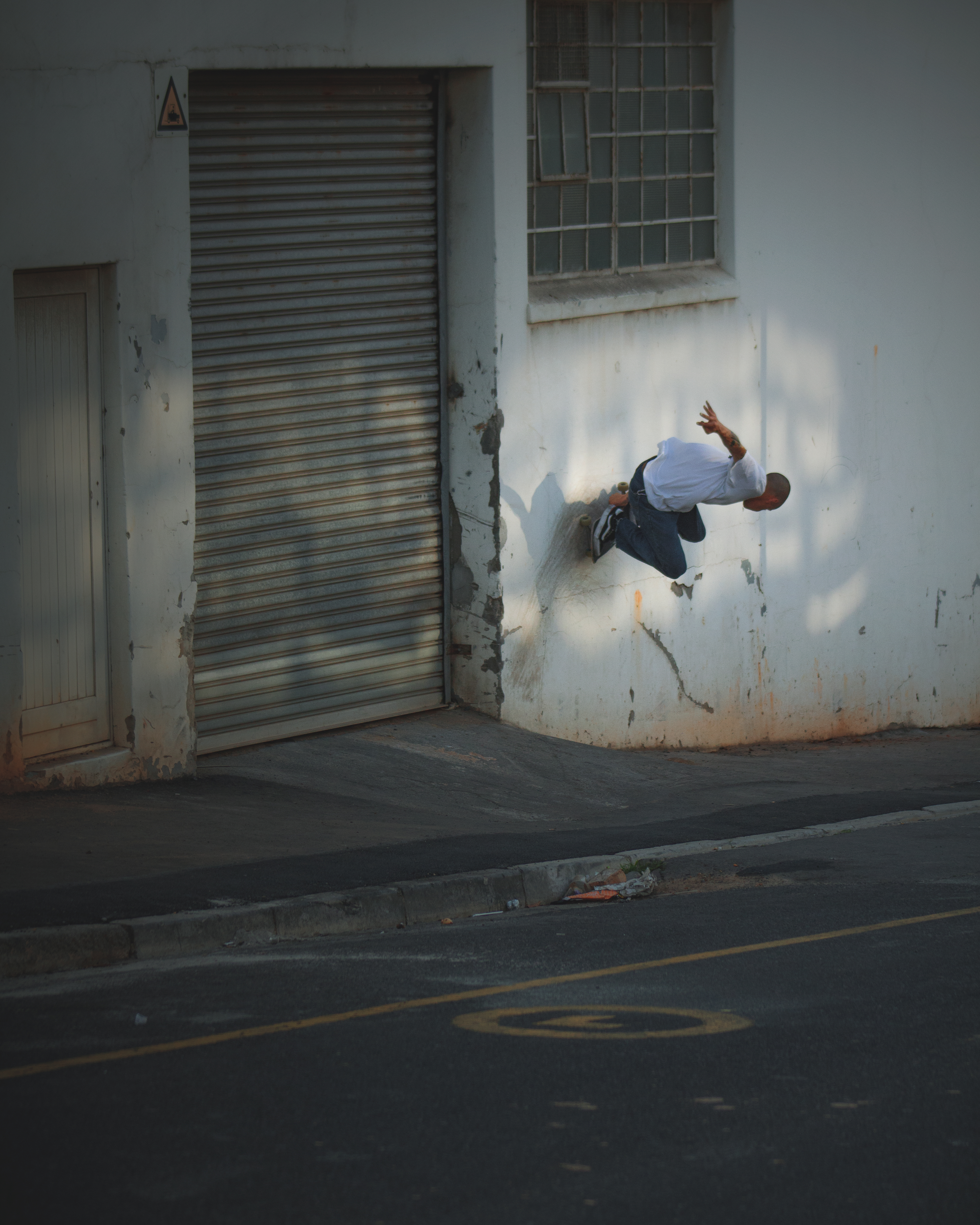 Photo by Phoenix Jurgens
You edited the part yourself while in lockdown, how has lockdown been for you in Cape Town and what else have you been doing to keep sane?
I slowly started cutting together a rough timeline at end of last year. The plan was to get the part out at end of last year, but due to injuries, lack of time and a heavy work schedule, it wasn't possible. I was also looking for an 'ender', but lockdown happened and I finally had time to make time to focus on editing. I realised that with lockdown I wasn't going to get that ender I was searching for and the longer I wait the older this footage gets. I made a decision to stick with an old clip, which is the board slide pull out to fakie in Simon's Town. I was never happy with how I landed that long lipslide, which would have been an ender I'd be happy with. It's one of those tricks where if you go too slow you don't make it and when you go too fast you can't take the corner at all. Eventually the edit and the song worked out so well that I ended up sticking it in there, kind of like a credits ender haha. Anyway, the editing was keeping me busy and sane during lockdown and I was able to skate a bit in my parking garage. Now that the part is finished I'm going to start feeling the cabin fever thing real bad I think. Let's hope I can keep busy with other editing maybe, we'll see.
There was a pretty dope insta clip of you having a sneaky session skating in your parking garage with Justus Kotze, did you get bust in there?
I have a box made by the multi-talented Juan Smit. I kind of donated it as a bench to the one tattoo shop I work at, but as they weren't using it anymore I took it back for lockdown. I had a couple sessions by myself to check out the vibe and then when it all seemed pretty chilled I invited Jussy over for a roll. We had so much fun, like when we were little kids and we just made weird obstacles, etc. The very next day I think, I was skating again by myself and that is when the building manager caught me. No one else complained, just him. So that also had to end unfortunately…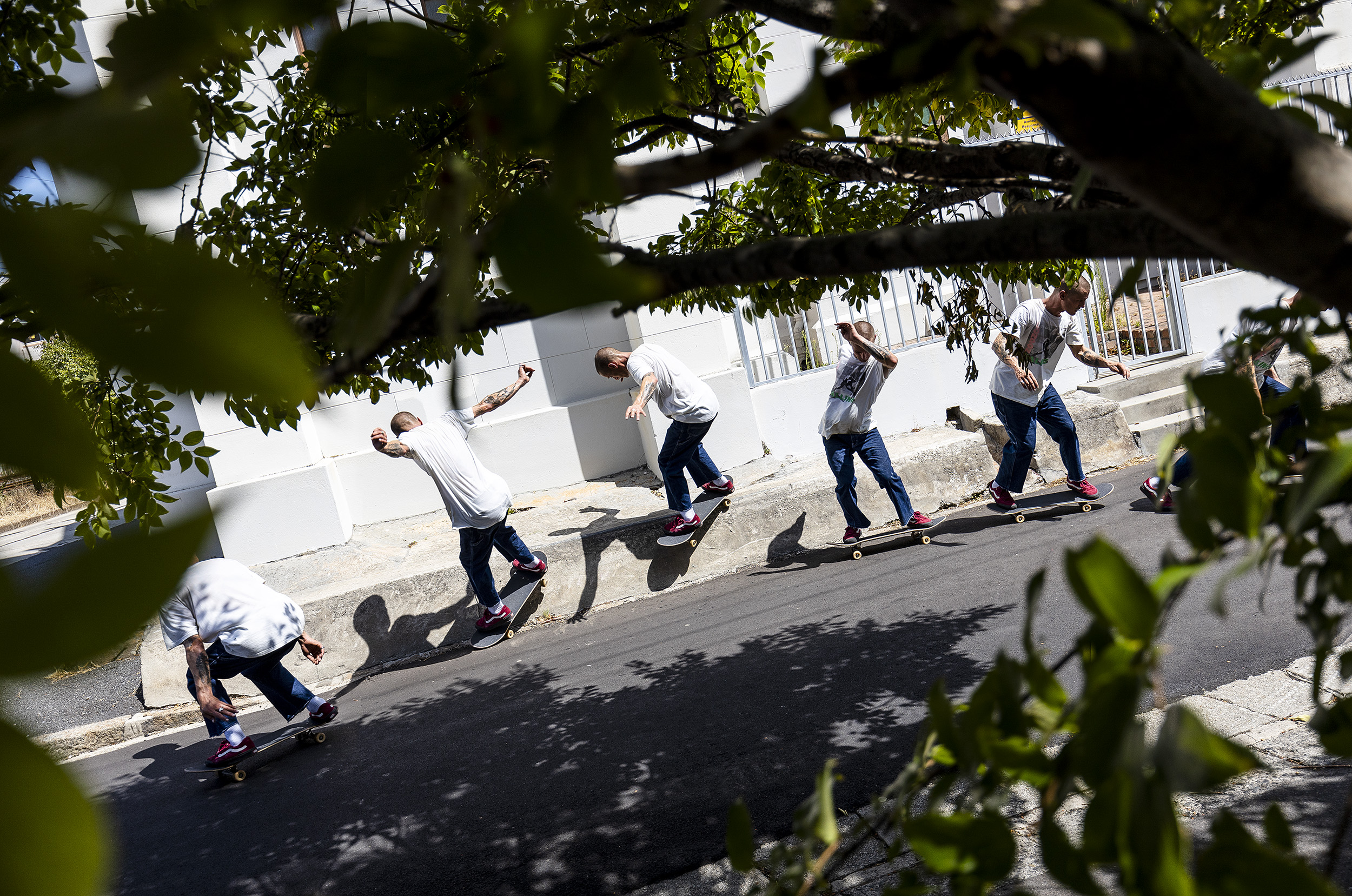 Photo by Grant McLachlan
You have done a couple of Vans trips recently, the one you mentioned to Port Elizabeth and then much further afield when you guys went to Portugal. Can you tell us about those experiences and when might we be seeing the footage from those trips?
Yes, I constantly have to pinch myself for even riding for Vans, especially at my age of 33 haha. It makes all the blood, sweat and tears from the past 20 something years all worth it! They are so incredibly good to us, and support us in every way possible. I am so grateful for being part of such a rad family! The PE trip I mentioned earlier, but yes, that was to try and get some content in other cities, as we all know how quick you can run out of spots and ideas in your own town. I'd say it was a super successful trip as a whole, the only shitty thing was that calf injury. The footage filmed in PE will be featuring in the Vans ZA video that's coming out soon hopefully. I only put one trick in my 'Bro-Cam' part from that trip, the front blunt 270 in the ditch.
Portugal! Oh my god, a dream come true! It was my first time flying out of the continent since 2006. A lot of the spots we came across I've seen in so many videos, but I always thought it was Barcelona. Portugal is like another Barcelona, there are spots everywhere and there's so much variety! It was the rainy season when we were there, but it's that strange weather where half an hour later it's dry again. So it was nice not being too hot. Pedro and Telmo were the best hosts and we stayed in the nicest Airbnb that Pedro owns. They are the best tour guides and most of the skate teams that go there are hosted by them. Amazing people, I'm so grateful for everything they did for us. We had the best crew too. Yann, Joubert, Mel, Trae and I were the SA riders, and Pieter Retief was the tour organiser. We were joined by Helena, Aaron and Ben from the UK. We all shared one house and it was the best vibe, we cooked together every night and just had the best time, I miss everyone so much! Sam Clark was our photographer too, so you know we were in good hands. Joubert and I took care of the filming. I'm not sure when the video is coming out, should be soon too though. We're also getting an article in Grey Mag I think. Everyone killed it on the trip and we got amazing content. Telmo and Pedro mentioned that we were the most productive team they have ever worked with, up early and no time wasting, just skate, skate, skate! The last 4 days of our trip we took some time to do our own things, some went up the coast and some of us stayed in the city. I was lucky that my sister and niece who live in the UK decided to come meet me in Lisbon, we shared an Airbnb together and it was amazing to catch up.

Photo by Pieter Retief
What's next for you, any plans to work on any new skate projects coming up?
Next up is the Baseline Video. We're all aiming to film full-length parts. I already filmed a couple of clips that I'm really stoked on for that. The worst part about releasing this video part now is that I know that I've already filmed better stuff for other projects coming up haha. But that will come out toward the end of year hopefully, if we can all get enough filming done by then.
Thanks for your time Wynand, any final words to end this off?
Thank you, thank you, thank you and I can't say it enough, but thank you so much to my sponsors: Vans South Africa and Baseline Skate shop. Also, thank you to everyone at Session Skate Mag. Without you guys the industry wouldn't be what it is today. If I start mentioning names individually then we're going to be here for a while, you guys know who you are: Fountain Bois, 87 Crew, Howl Bros, Veg Crew, Slappy Crew, all the skate photographers and filmers, my family, the Dean family, Simon and Mason in KZN, and everyone who supports or who is a part of this beautiful thing we call skateboarding! Thank you to all the OGs who paved the way for us, and the industry locally and abroad. Thanks to Yndian Mynah for letting me use their music in the video too. Lastly, skate for yourself and your own personal progression and remember to have fun with it. Hopefully we can all skate together soon. Thank you skateboarding.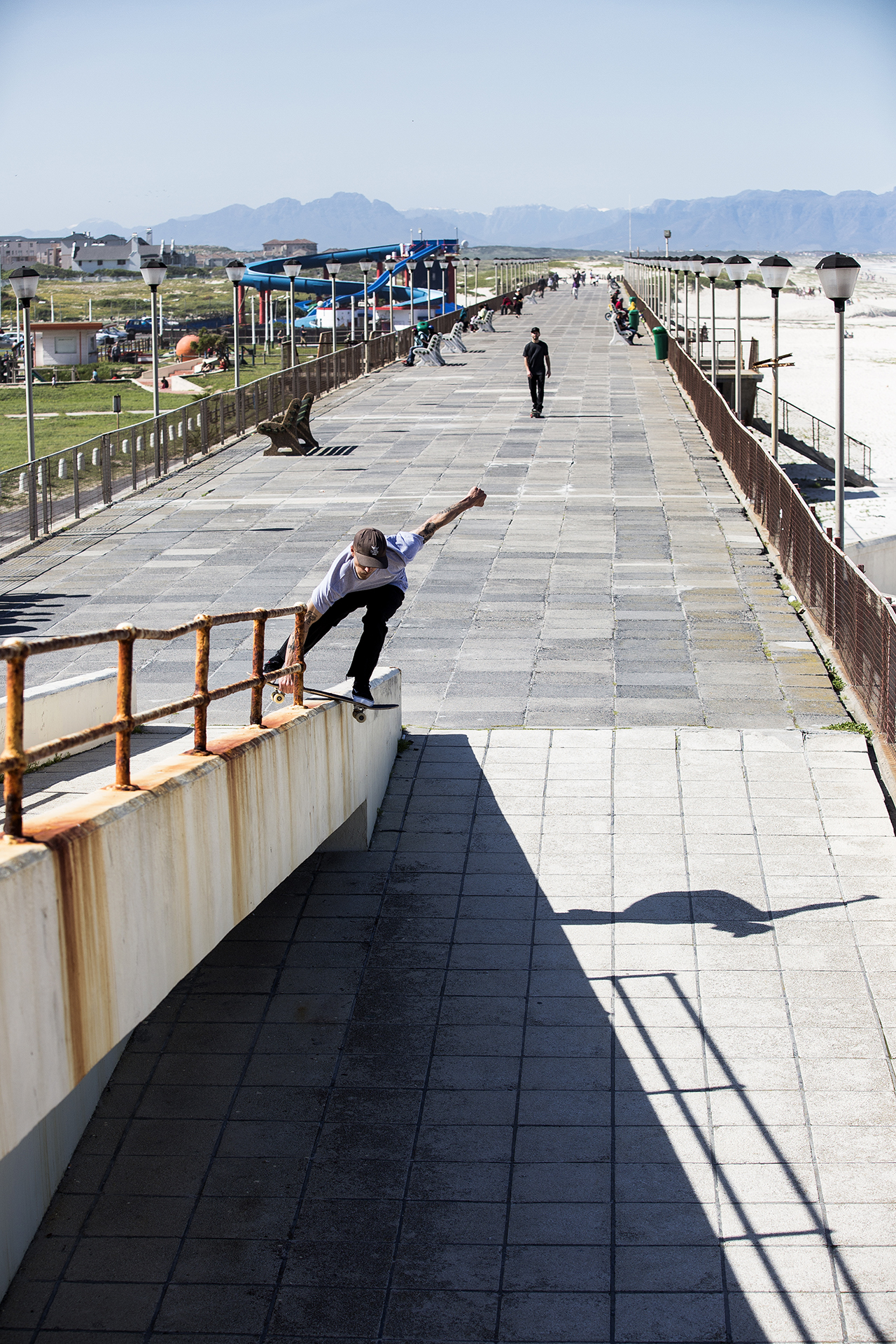 Photo by Grant McLachlan