We teamed up with Monster Energy on a special project called 'The Am Van'. The concept is simple: invite a bunch of young rippers, put them in a van together and head out to crush skate spots. Add in a couple of seasoned rippers like Monster team riders Khule Ngubane and Dlamini Dlamini, and you've got some serious spice to cook something up for the week. We jumped on the first plane out of Cape Town on a very early Sunday morning with Cape Town's two heaviest AMs, Alex Williams and Ethan Cairns. On arrival we picked up our van at King Shaka Airport, and before we could even check into our backpackers we'd already hit 3 spots. We were also joined by Durban AMs Jamie de Villiers and Siba Booi, and long-time Durban ripper Chris Nderitu.
It was quite a week to remember in Durban, not only for skateboarding, but also for heavy downpours and immense flooding! We got caught out one evening when downtown Durban became saturated, the streets transformed into rivers and we had to remove our shoes to cross a deep one that blocked the entranceway to Curiocity Backpackers, where we were staying. By the end of the week cars were submerged in places and houses had even been destroyed. But you wouldn't know all this just by looking at the photos and watching the video. Because despite the rain, it ended up being one of the most productive skate trips to Durban we've ever had. Not because we didn't get bust, no that happened a lot! But because everyone in the van is so damn good at skateboarding that when we kept looking for spots, the guys just didn't stop getting clips!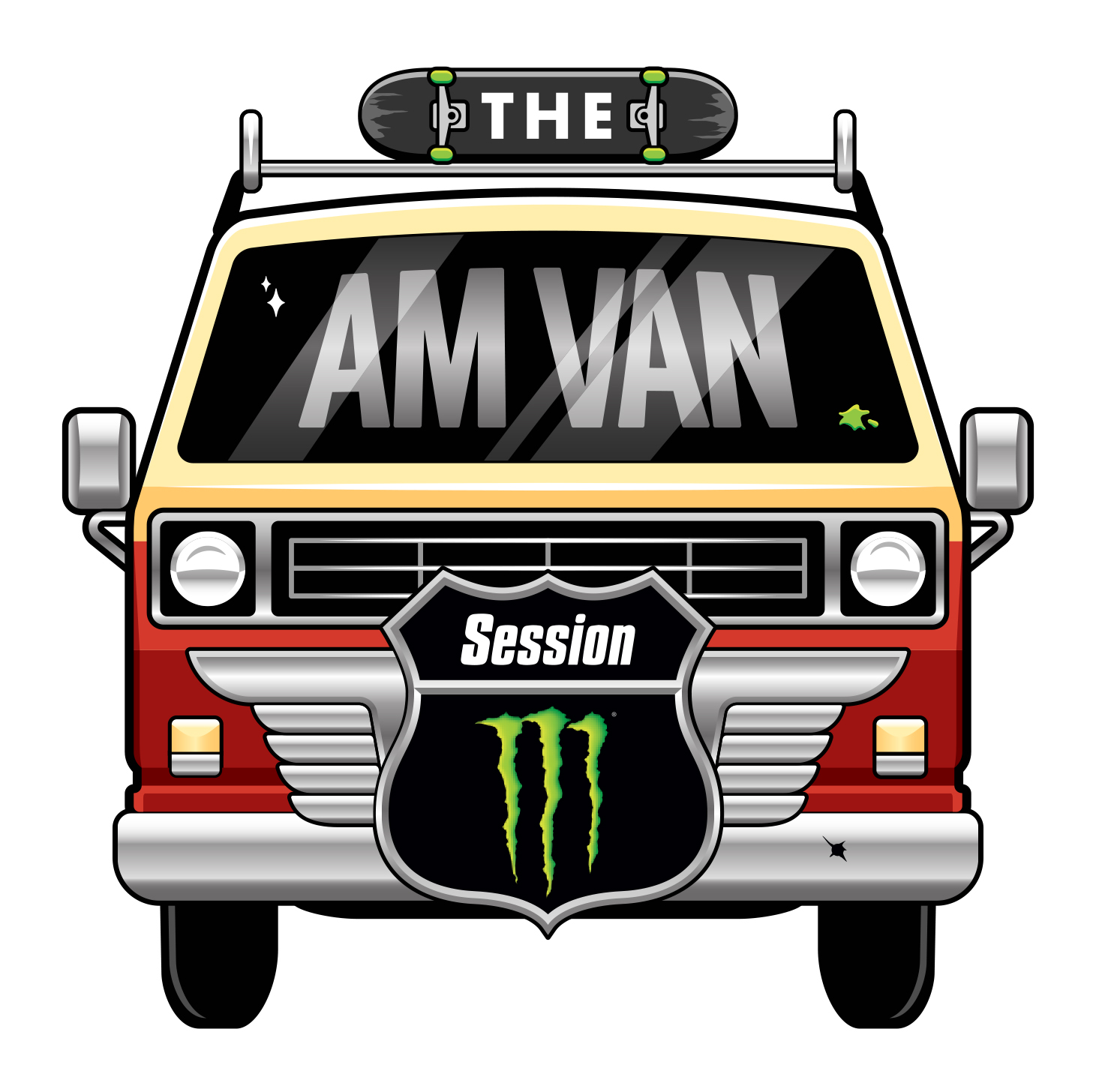 Photos – Grant Mclachlan / Words – Luke Jackson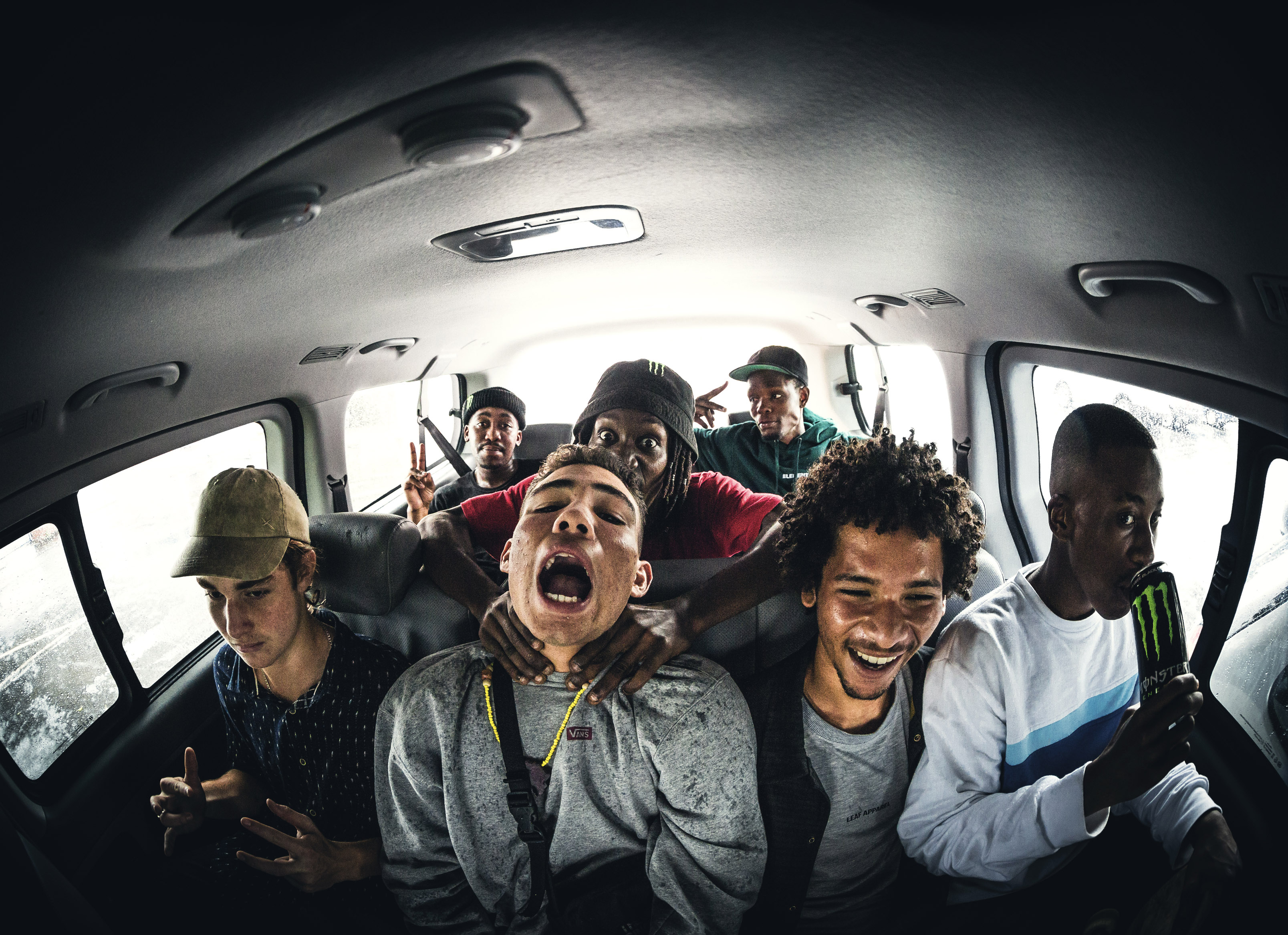 The van was packed full of rippers, the pesky Ams upfront and the OGs in the back!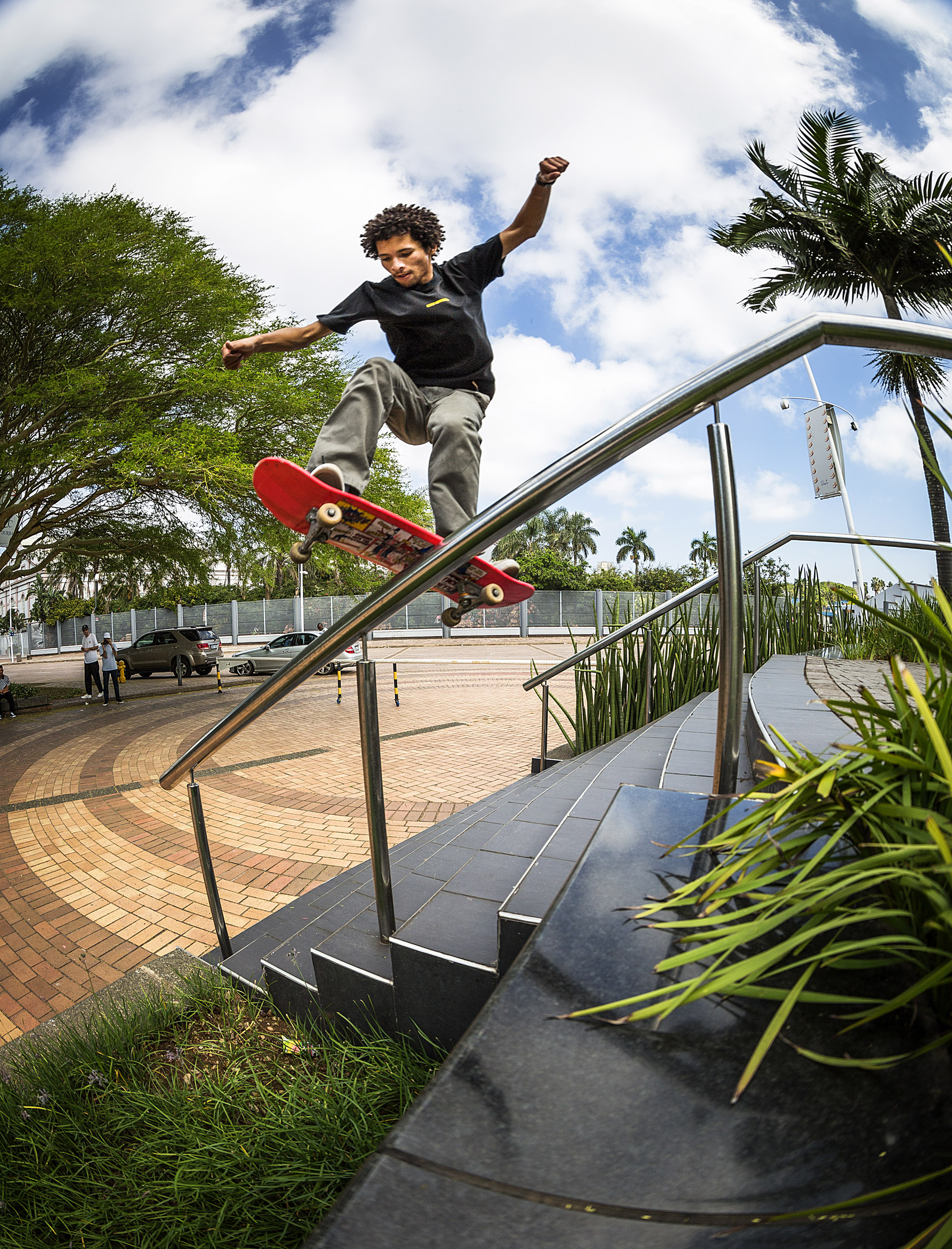 This was the first spot we managed to hit, straight from the airport, bags still in the back of the van. We scooped up photographer Grant Mclachlan on the beachfront (he was already in town) and headed to the ICC, as it was across the road from Curiocity. While waiting to check-in we thought we'd get cracking. After getting bust at both the ICC handrail and the ledge, Alex did a quick front board fakie on this rail with a short run-up outside the Hilton Hotel.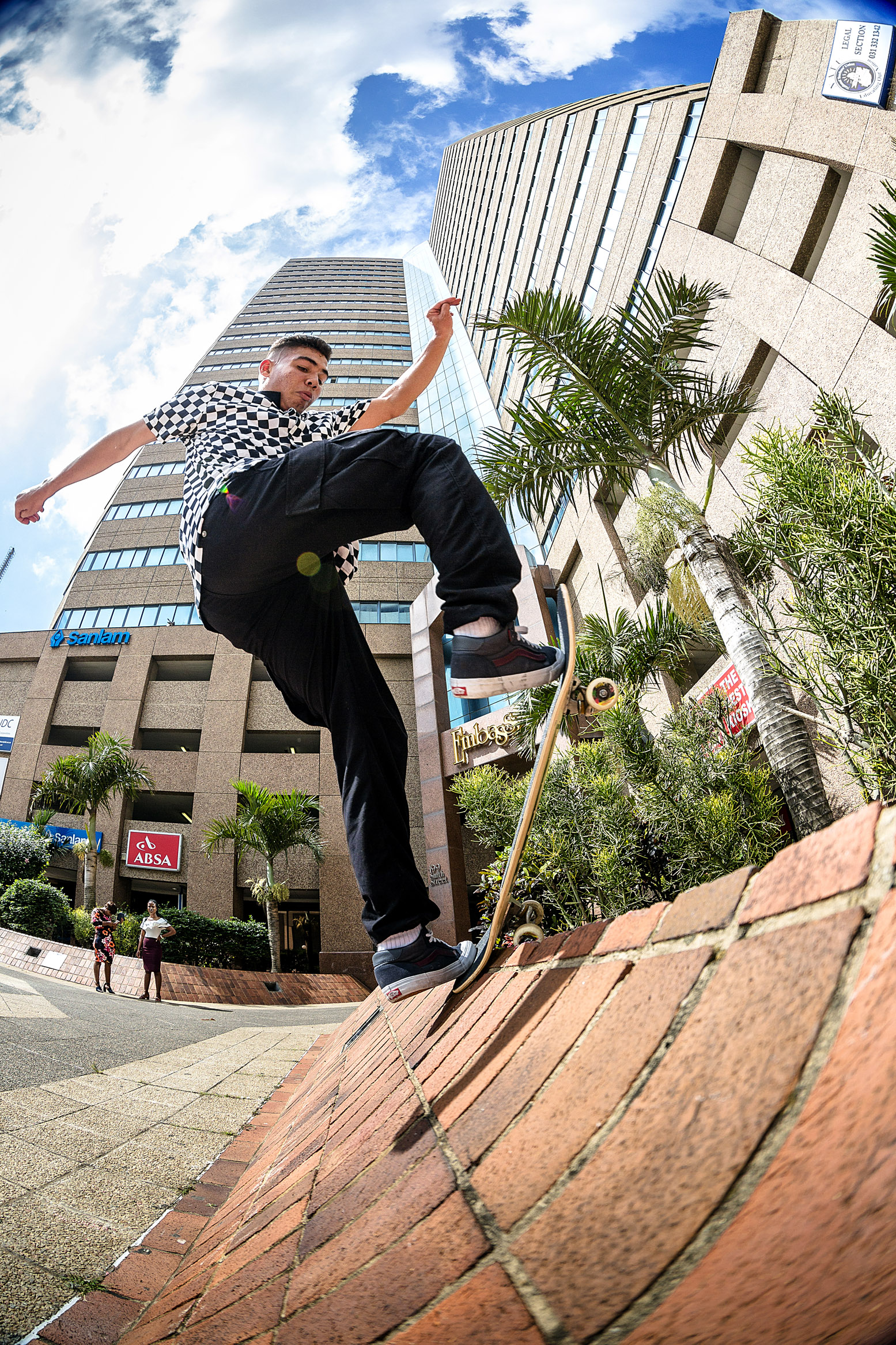 We still couldn't check-in yet, so we hit these classic brick banks down the road. What you can't see in this photo is the two security guards behind the camera that are trying to get Ethan and Alex to stop skating. Ethan wasn't too bothered by them and landed this frontside blunt regardless.

After check-in we headed inland to Westville. Khule front boad shuvs up a very unique bus stop rail.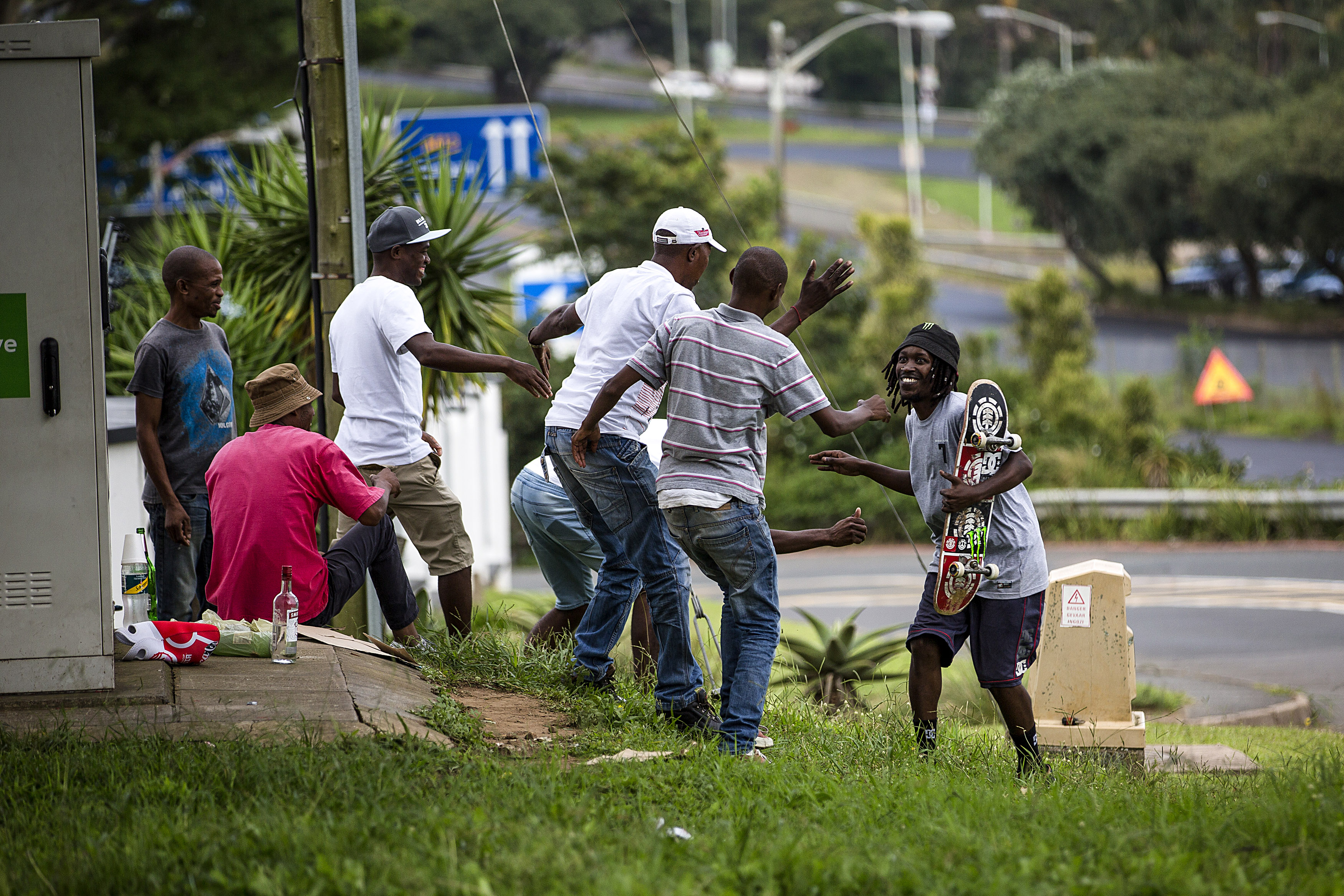 These guys were chilling across the street and got real hyped!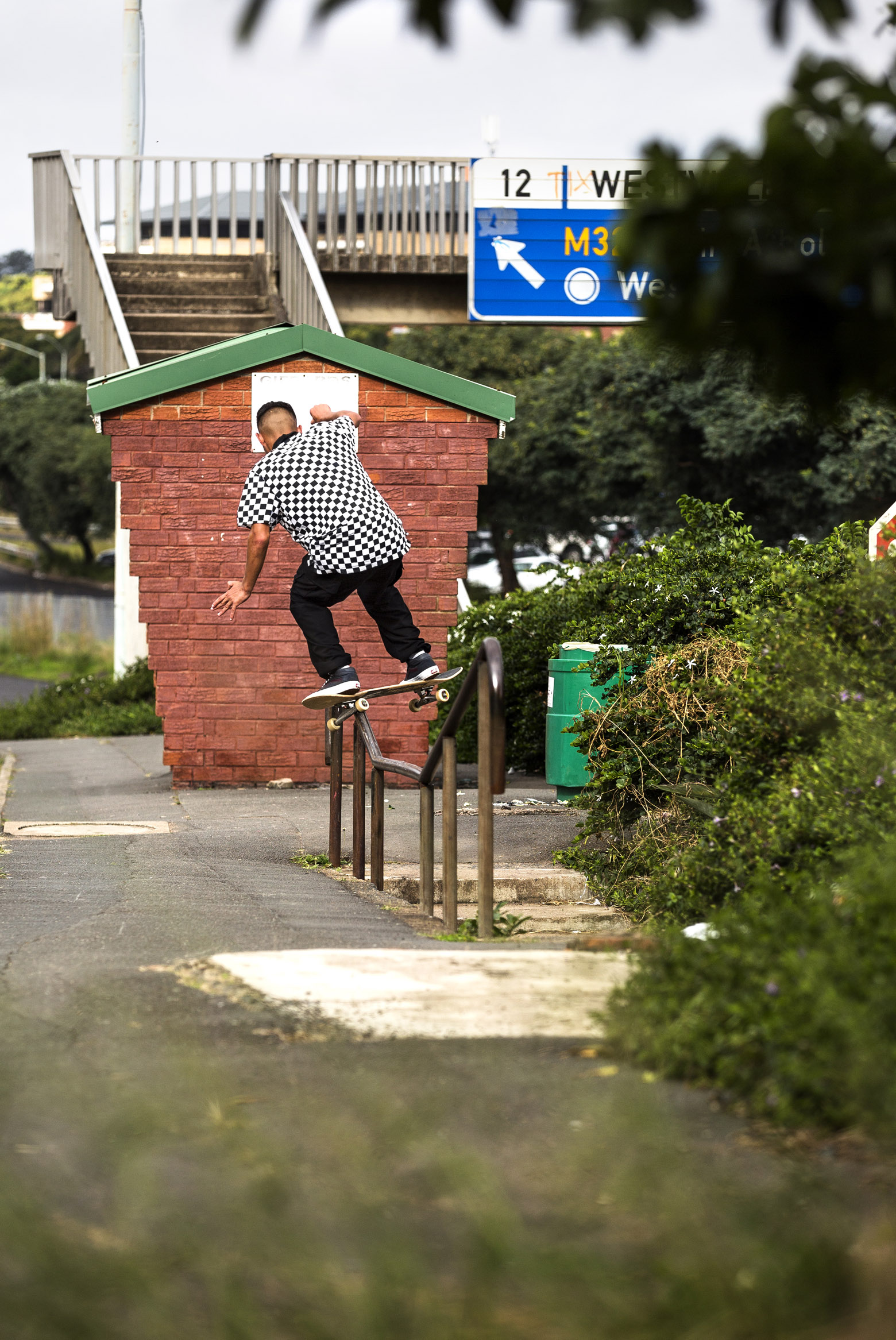 Ethan did about 40 feebles on this thing, and a few 180s out too!

Day 1 in the van, our real home for the week.

We ended off Sunday at the infamous big 3 in Cato Manor. With most of the crew feeling a little weary at first, after an early start and a long day of skating, Siba went straight at the stairs and ollied them first try. He then did one of the most banging 360 flips that any of us has ever seen. As Grant called it, "A boss ass tre flip!"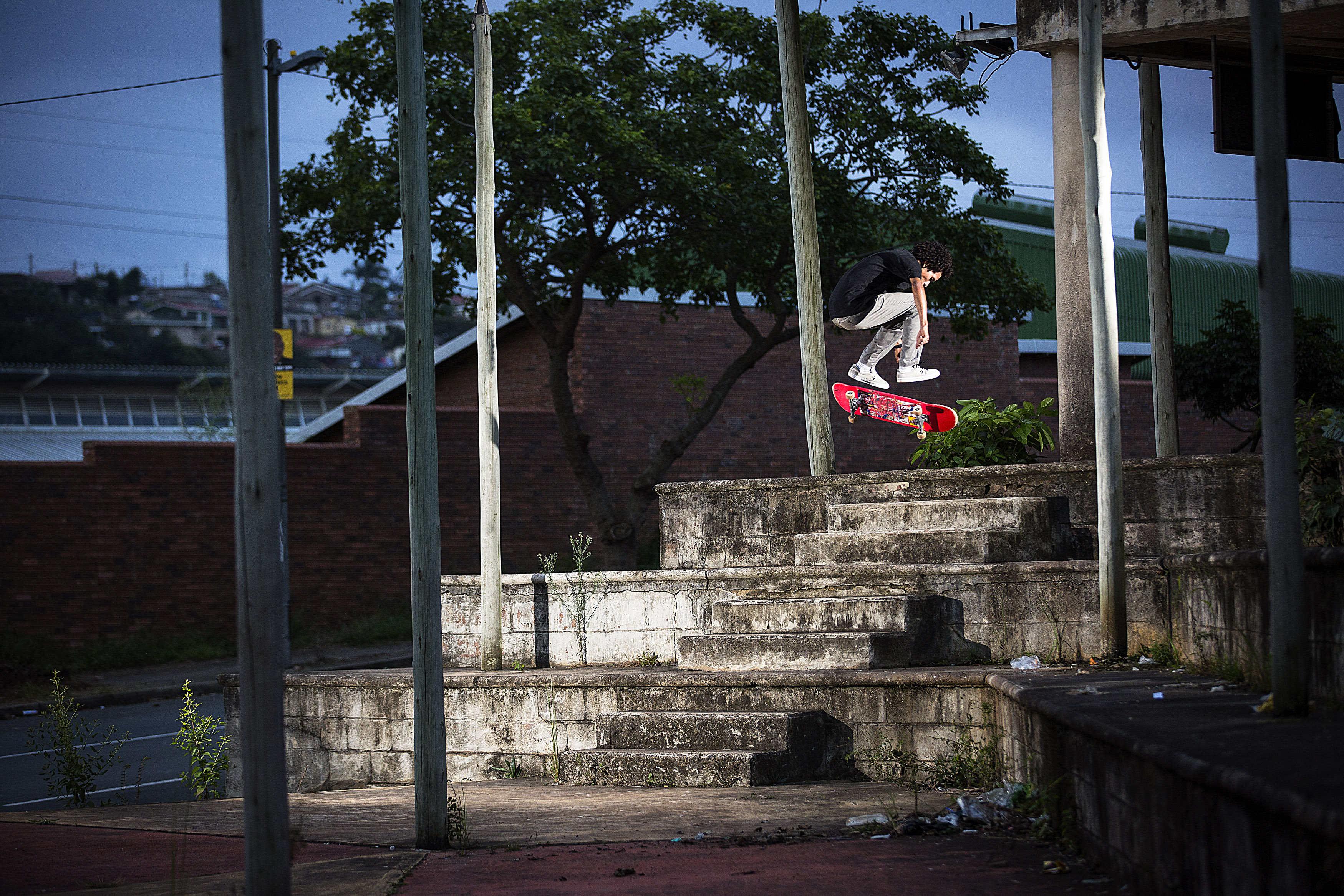 And then the day was finally sealed by this incredible nollie backside flip by Alex Williams. He did it perfect! And as he rolled away out of frame to the left, he still had the composure to switch ollie over the grass gap cut out of the floor. Everyone was stoked! We packed up all the camera gear and got out of there just before it got dark.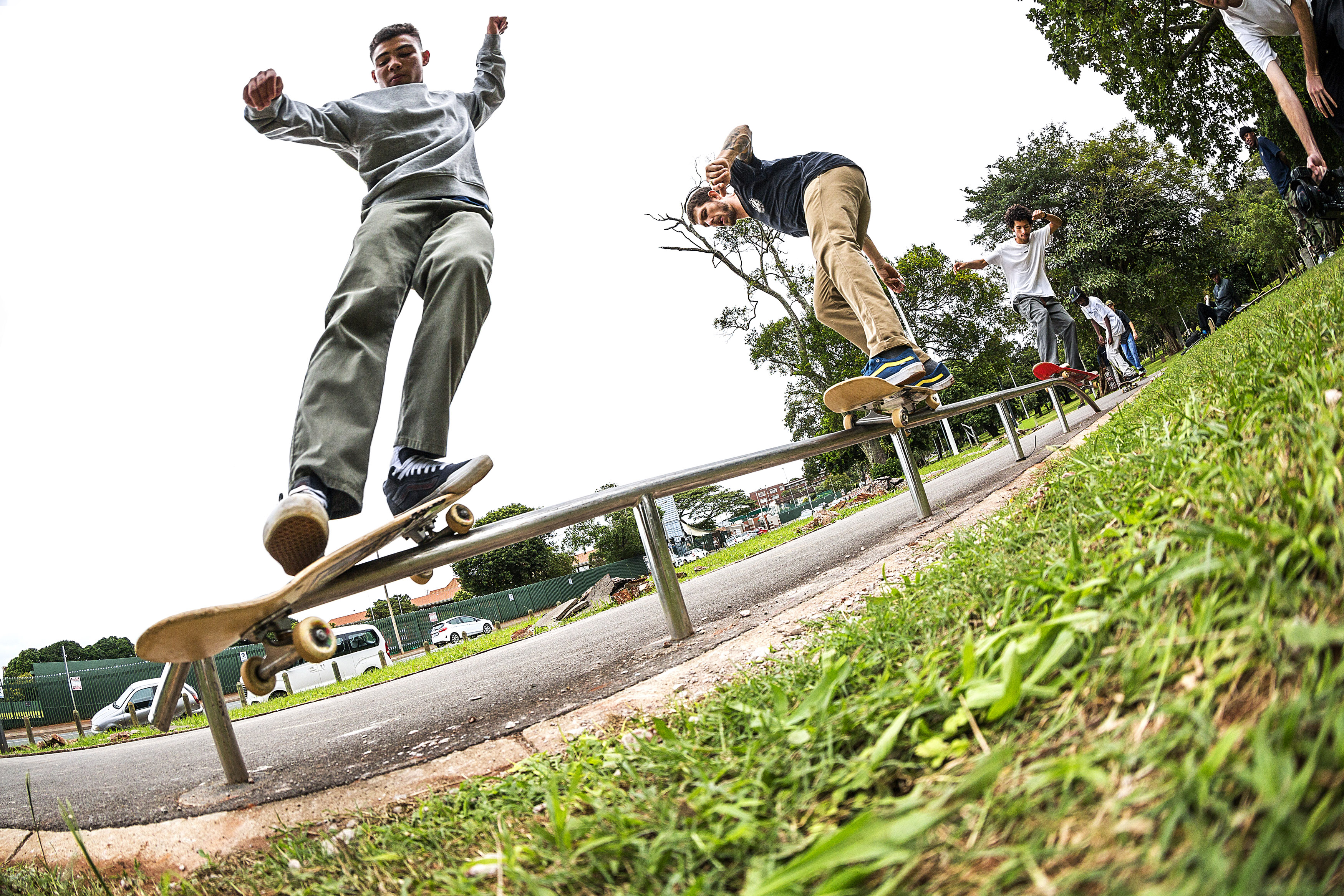 Day 2 kicked off at Bulwer Park. It's hard to believe this rail isn't at a skatepark. Apparently the council added it to the walkway through the park to attract skaters away from the plastic benches. Funnily enough, a couple of the benches have since been un-skatestopped, so now it's basically a street spot with fun little rails and ledges! The crew had fun with a few consecutive trick trains.

We scoured a few of the various UKZN campuses throughout the week. This large rail that Ethan is boardsliding is right out the front of the main building at the Howard College Campus.

This classic old rail at the Greyville Racecourse was session'd hard! A crew of rail killers frantically going back-to-back before security shows up. There were plenty of bangers, like this Khule back smith.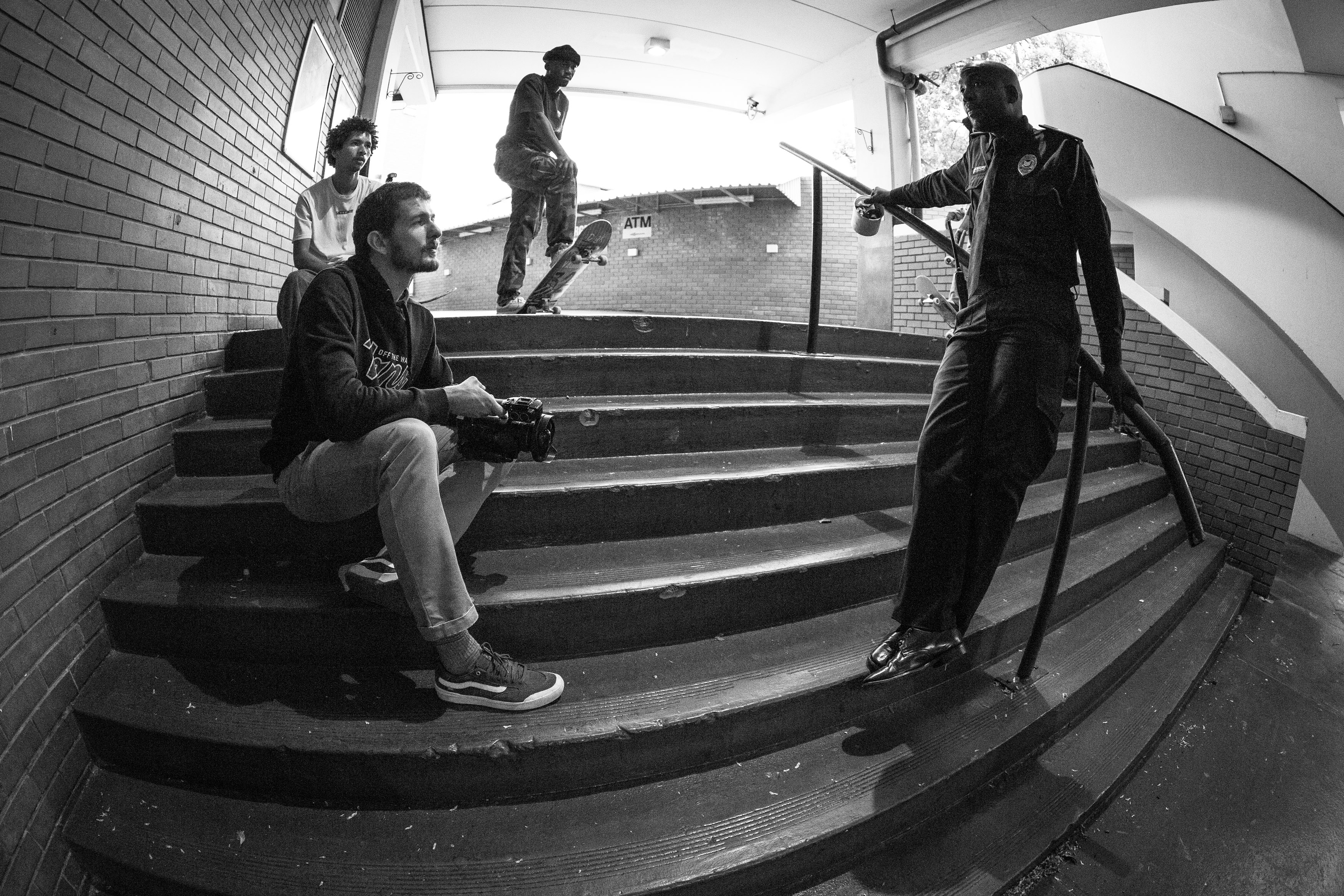 And yes, security did show up to spoil the fun.

With the ICC being across the road from the backpackers, it meant we could always try and hit the classic handrail on the corner again, even after getting bust previously. Dlamini banged this switch crook while security was trying to get us to leave. Right after this, we did.

Dinner each night was usually sourced at Durban's famous Florida Road, but the late night shenanigans were back at the hostel. Thankfully there was a bar onsite and tourists around, so I didn't have to stay up super late driving the party crew around every night.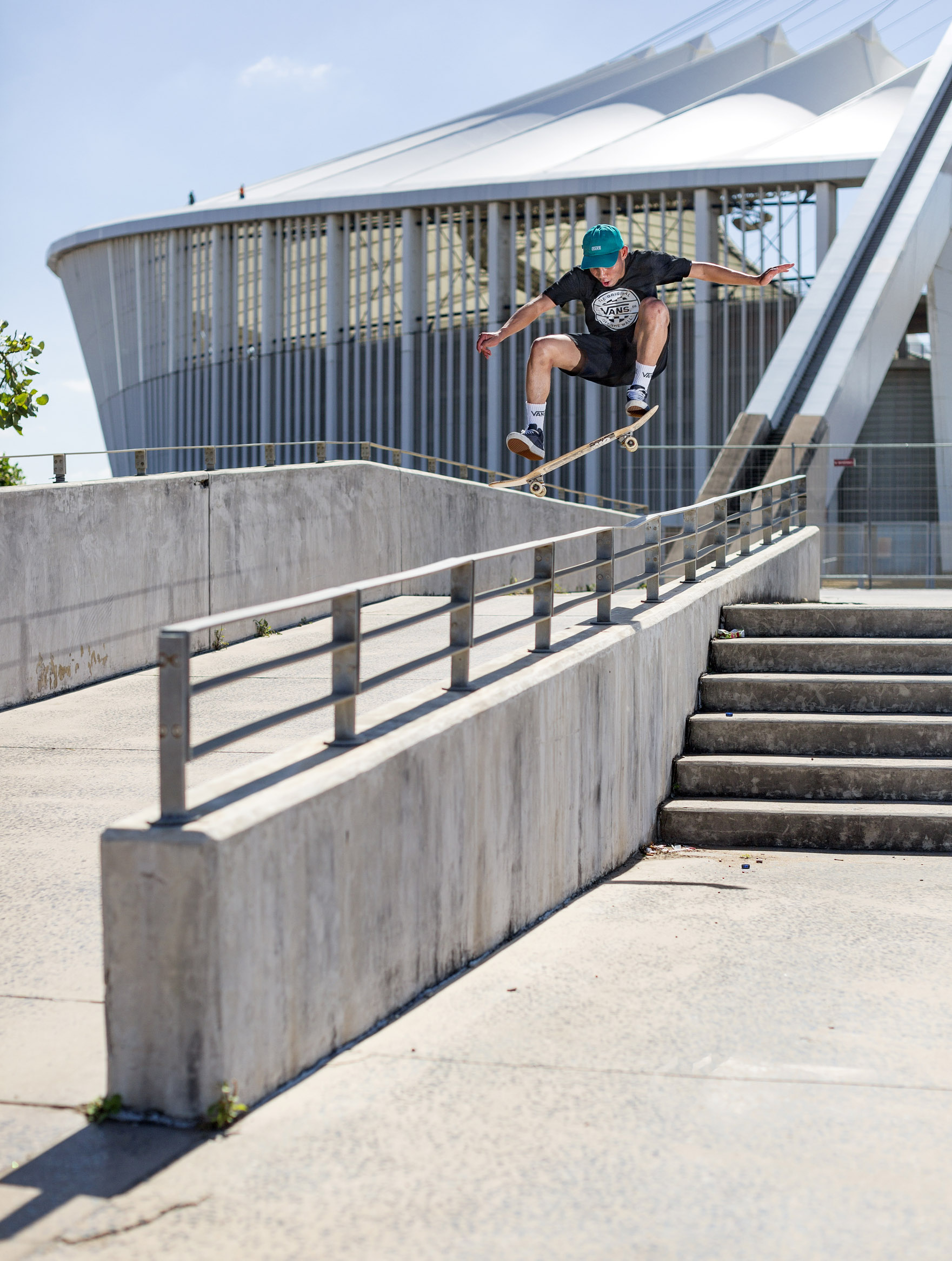 Ethan kicks off day 3 at Moses Mabhida Stadium, with a proper frontside flip, in a line!

Alex replies with a switch flip, also in a line!

Then we cruised down the beachfront. This is another real old classic Durban rail. Ethan and Alex both unleashed a plethora of tricks, none more impressive than this Ethan front feeble. We got way longer at this rail than we expected, despite shop managers and security repeatedly telling us to leave.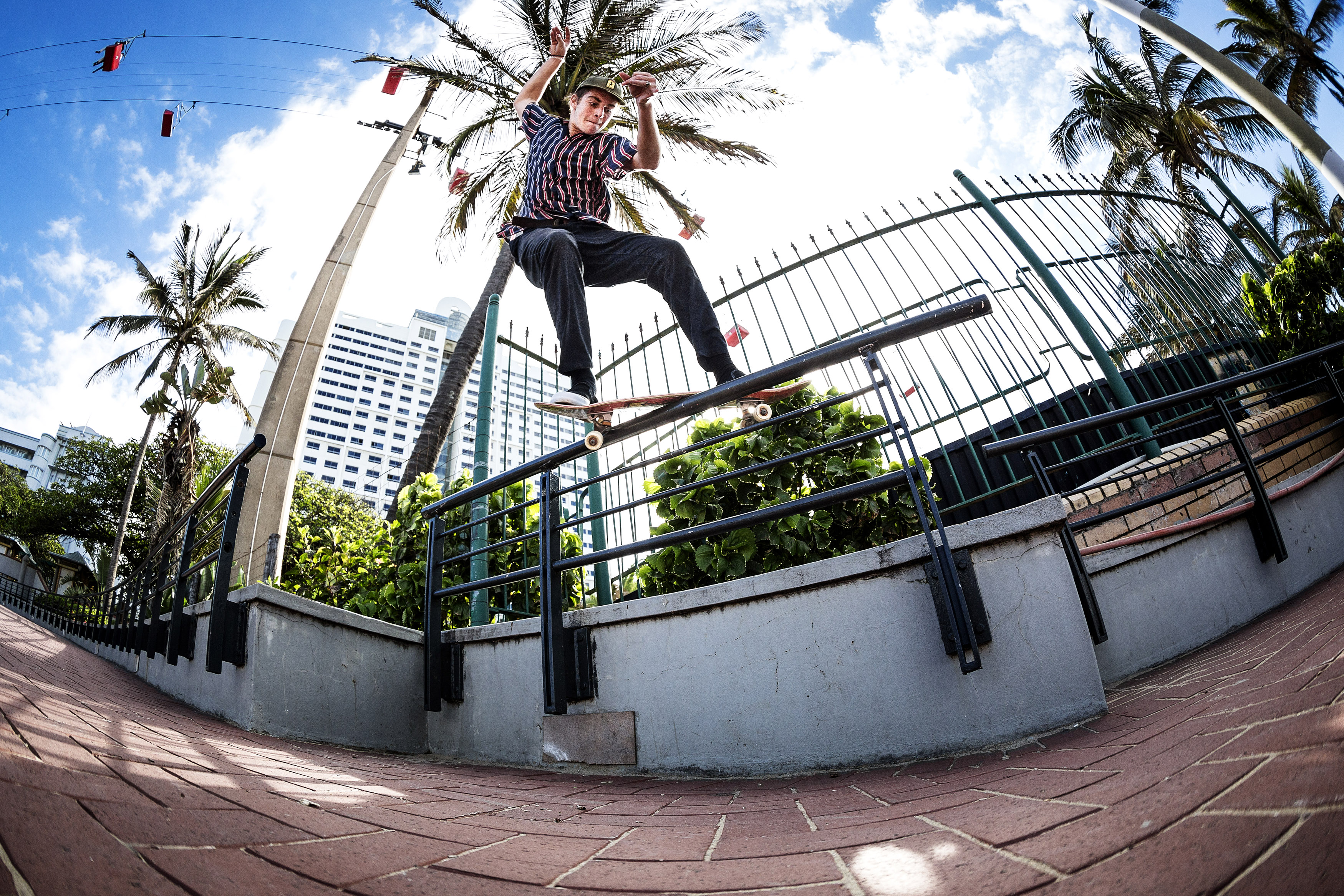 Just down the beach is this out rail. Jamie did this feeble real quick!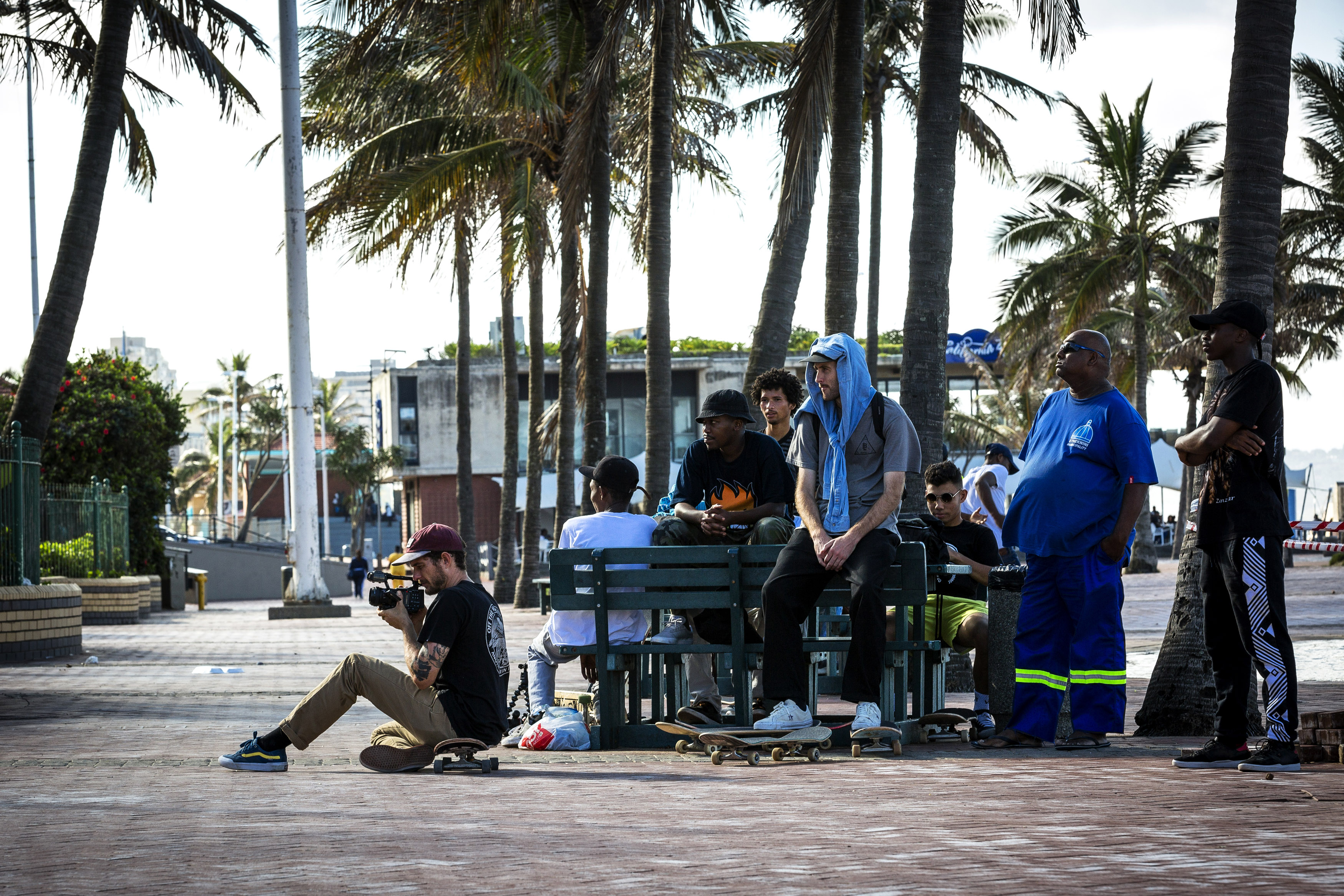 A day spent cruising along Durban's tropical beachfront is always a day well spent.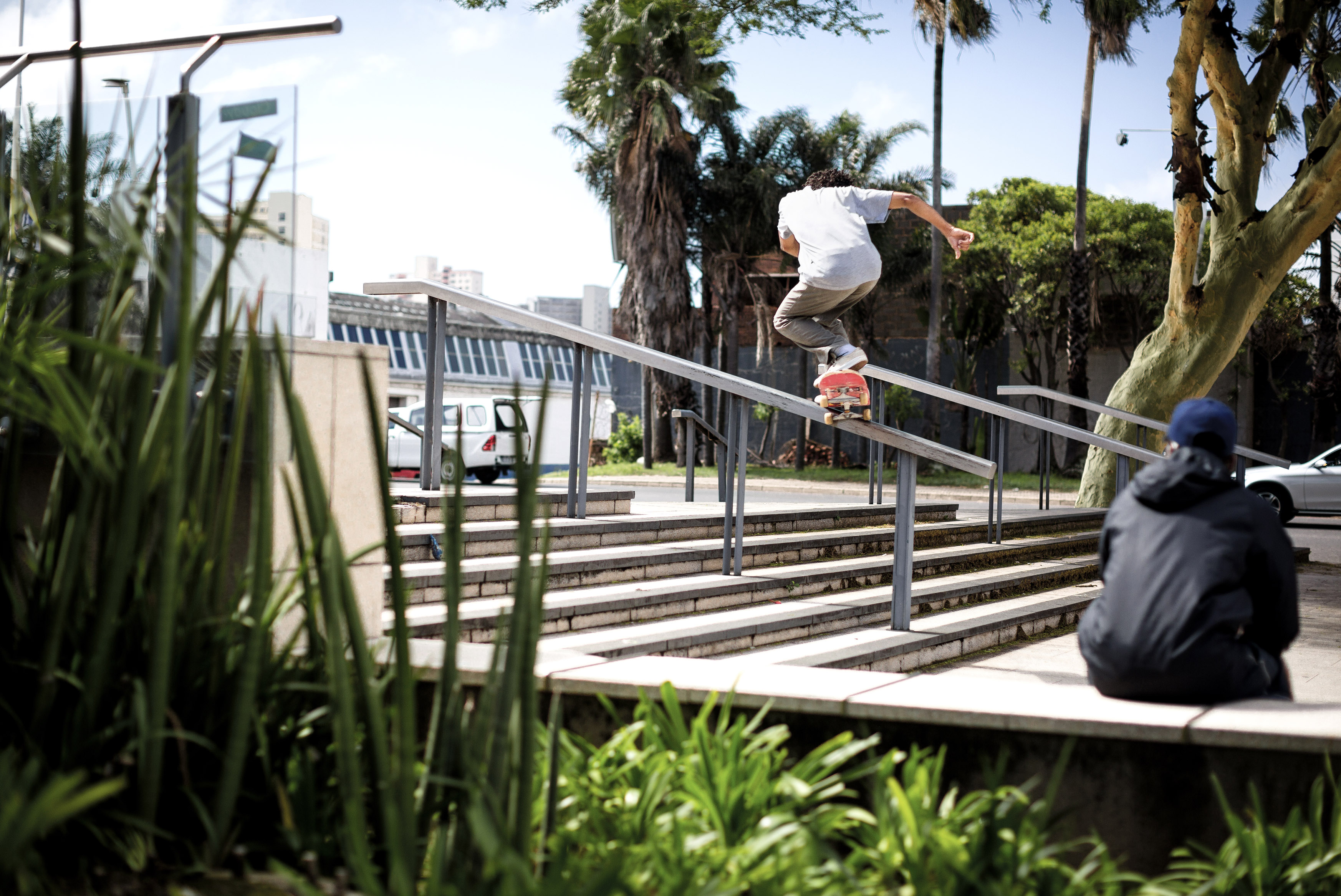 Of course the crew went back to the ICC rail again. Alex with the Spanish grind, which is basically a back 180 nosegrind that gets brought back to regular. But he did back 180 nosegrind to fakie too!

Dlamini switch heelflips at Davenport Centre. The first time we went there security told us off sternly. But of course the crew was coming back on another day. We don't get put off that easy.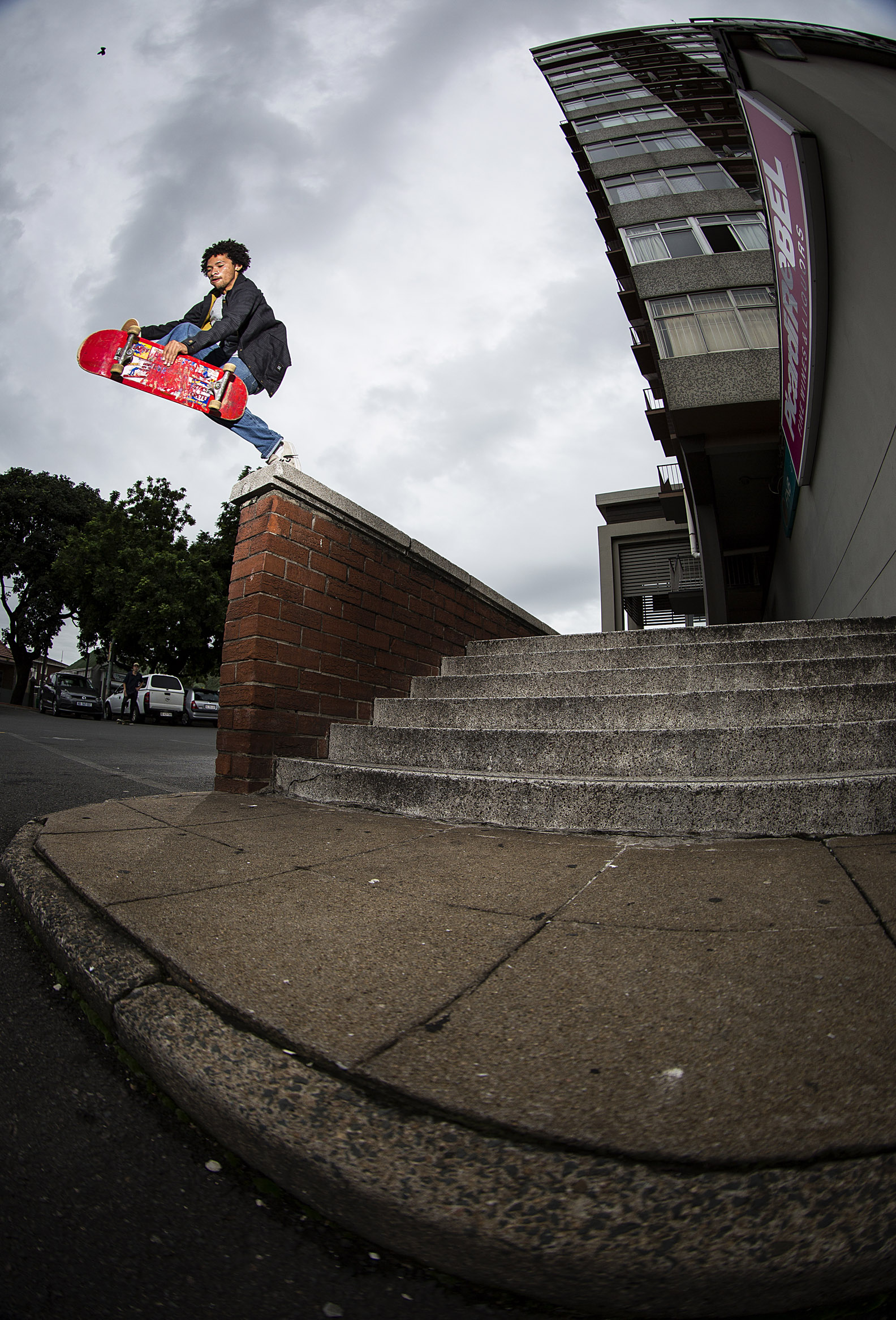 Alex with a fastplant over the wall, the original idea Grant wanted to shoot the first time we went there.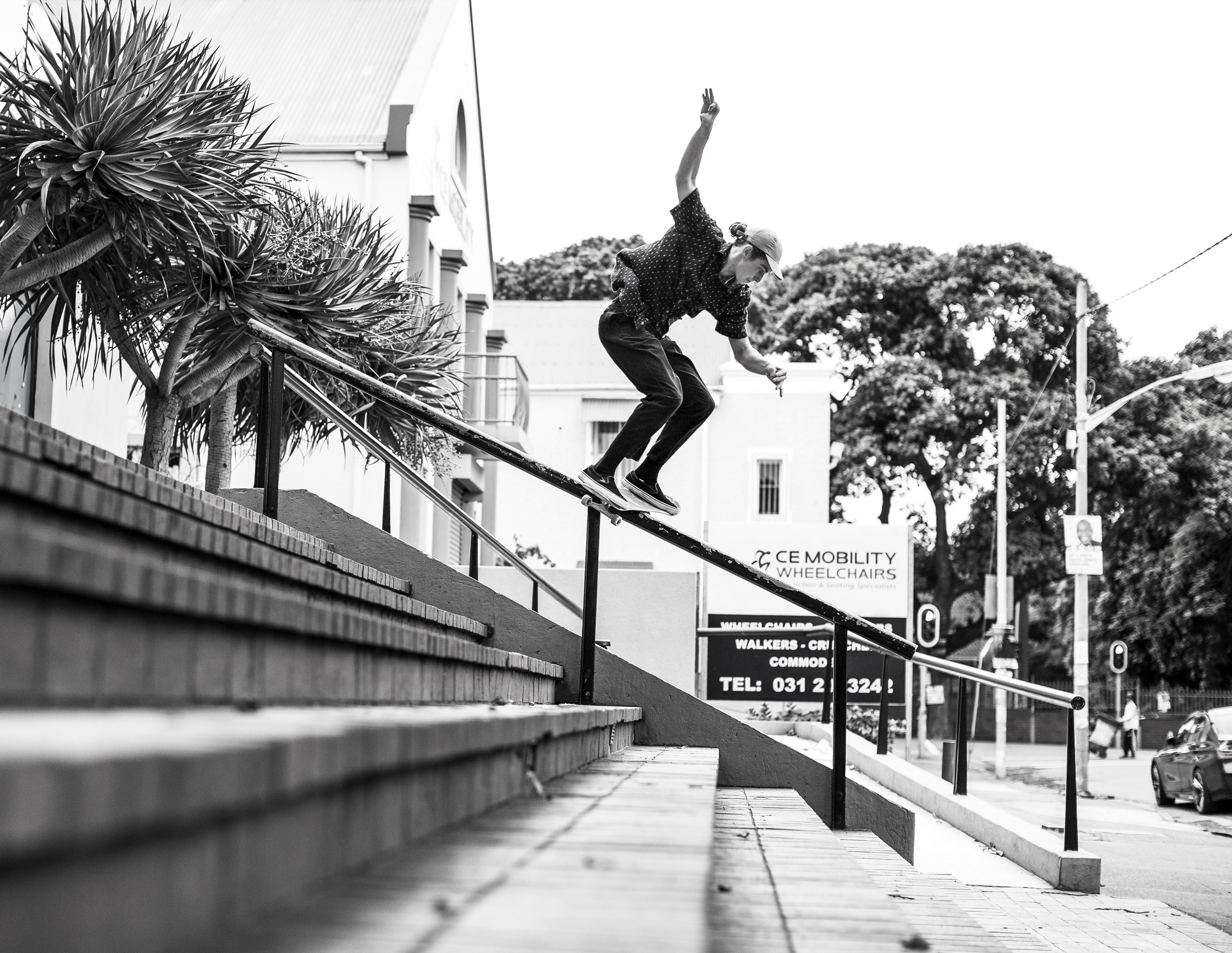 Jamie got this boardslide just as security was closing in. The homies were watching from the van and everybody went wild! Jamie also put Ethan and Alex up at his house for a few nights so that they could extend their stay in Durban. Thanks man!

Dlamini got this 180 nosegrind on the second visit to UKZN's Westville Campus. The guys found a bunch of spots there back on day 1, but as we started skating security told us we had to leave the campus. Second time lucky!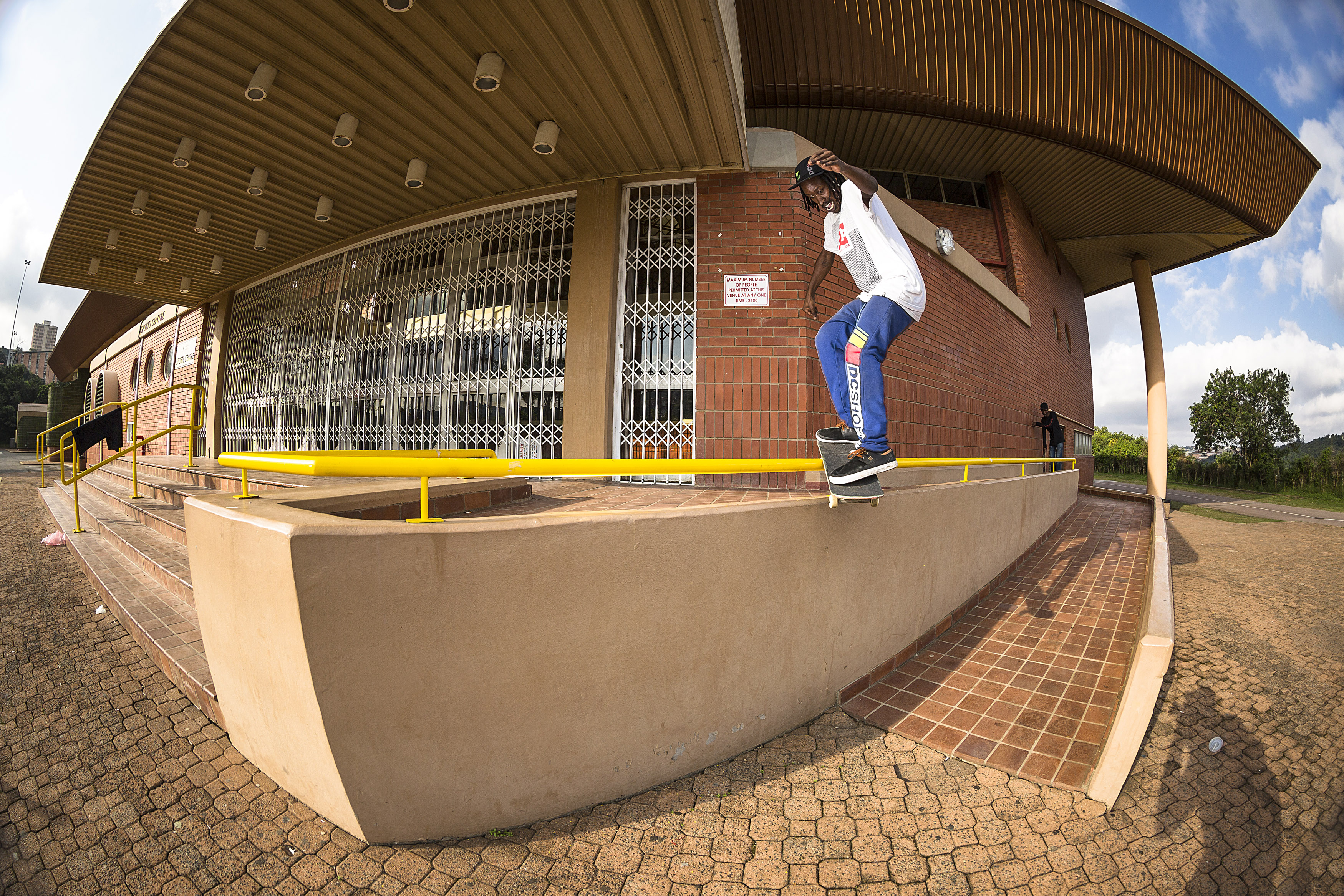 Khule feeble transfers over the wheelchair ramp railing on campus. Chris in the background followed him up with a front 50-50 backside out. Productivity on point all week!
Big thanks to Monster Energy for making the trip happen! Stay tuned, you never know where the The Am Van might just pull up next…