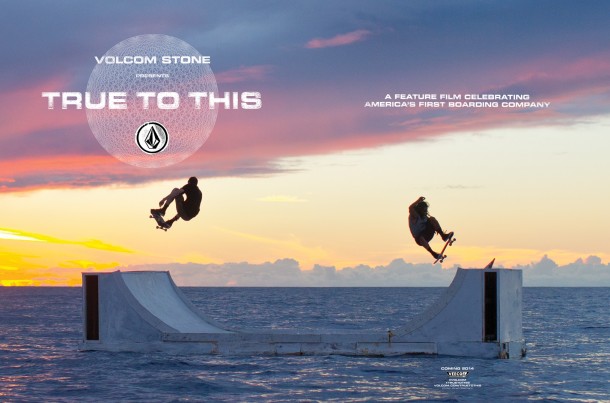 A motion picture celebrating America's First Boarding Company.
When Volcom was founded in 1991, it was the first company to combine surfing, skateboarding and snowboarding under one brand. This way of life influenced the "Youth Against Establishment" style and attitude that defined a generation. The cultural phenomenon was best captured when Volcom released "Alive We Ride" in 1993: a film documenting the raw excitement and spontaneous creativity inherent to the lifestyle. Twenty years later, with the release of "True To This", Volcom again captures the energy and artistry of board-riding in its purest forms. Shot on-location around the world and showcasing iconic athletes, "True To This" is a tribute to the movement that inspired a generation and the people and places that embody the spirit today.
Check out the trailer and stay tuned for SA premiere details coming soon:
The evolution of a revolution… Volcom Stone presents the premiere episode of "The Making of True To This" web series. This first episode, entitled " 20 Year Itch", features interviews with Brian Iguchi, Geoff Rowley and Richard Woolcott along with behind-the-scenes footage and bonus clips from the upcoming "True To This" Feature Film:
In this episode of "The Making of True To This", legends divulge the secret of the stone in a fast-paced road trip down memory lane. Geoff Rowley, Dustin Dollin, Terje Haakonsen, Gaven Beschen and Richard Woolcott tell the tales of art films gone wrong and why your 'out' if you only think about yourself.
The Making of True To This: Episode 3 'Not New To This', takes us deeper into the never ending journey of the stone and the beckoning of the inner voice. Explore the fringes of the Veeco Film Productions library with Volcom team riders past and present. Featuring: Chet Thomas, Jamie Lynn, Caswell Berry, Terje Haakonsen, Dustin Dollin and Mitch Coleborn.