To conclude their South African skateboarding adventure coverage, the Route One Crew from the UK have a third installment to their 'Bourbon in Durban' series that initially dropped on the Sidewalk Mag site. Click the relevant tab link for a reminder about Part 1 and Part 2. In addition to hitting up spots in Johannesburg and Durban the guys also visited the Skateistan facility in downtown Johannesburg and the Indigo Project in Valley of 1000 Hills in KZN.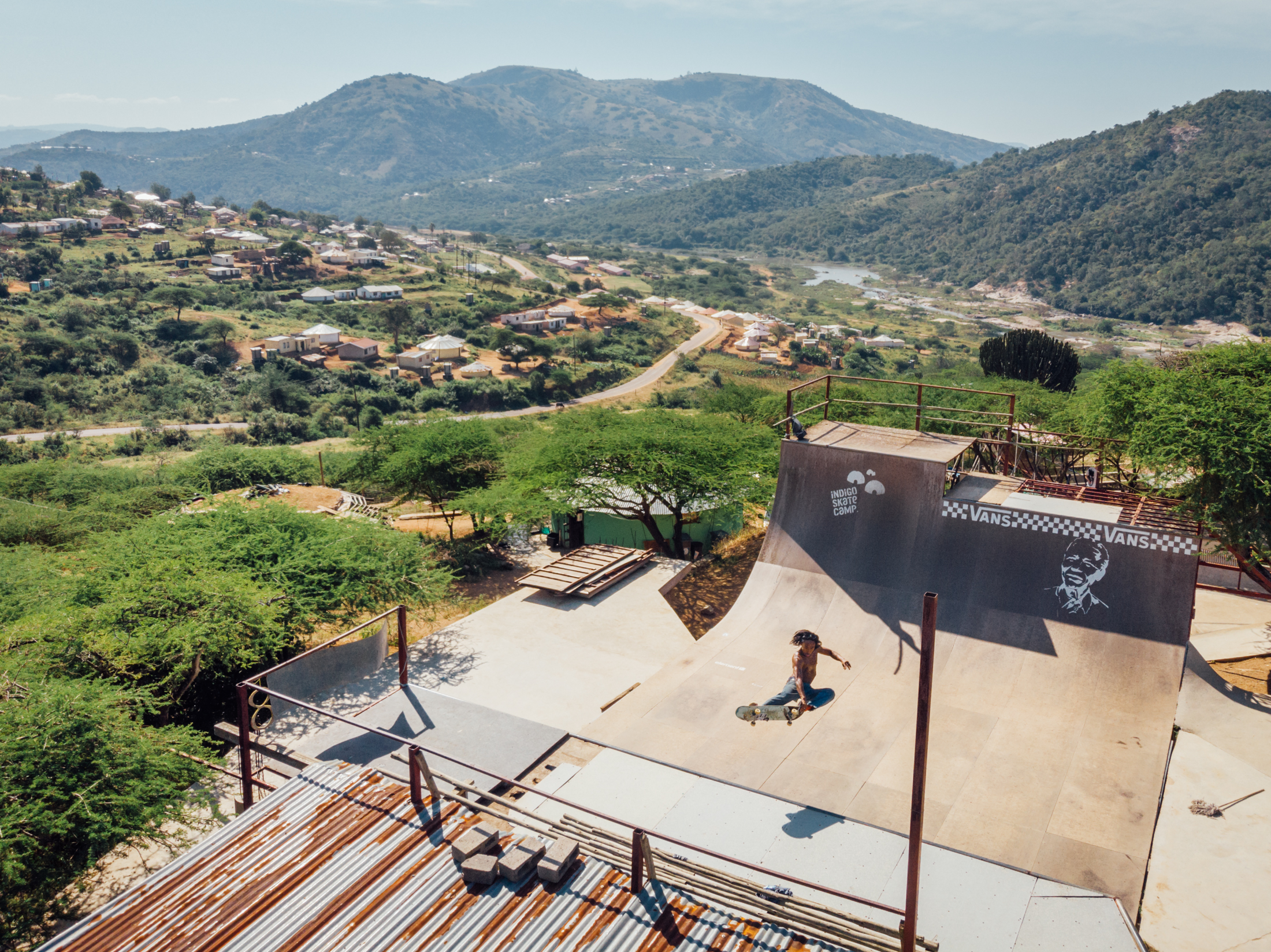 Daryl Dominguez floating in the Valley of 1000 Hills – Photo James Griffiths
Check out the 3rd video installment below:

Ben Powell hit up Daryl Dominguez for a few insights about the trip to South Africa: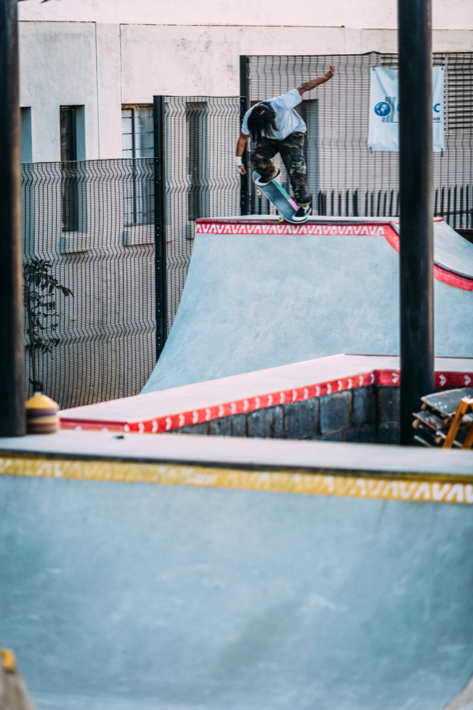 Daryl Dominguez Nosepick at Skateistan – Photo James Griffiths
You're probably the most well travelled of everyone on this trip D, had you been to South Africa before? If not, what preconceptions did you have of the country?
So this was my first time in South Africa and the African continent in general actually. I didn't really have any preconceptions of the place. I just knew that I was in for a road trip full of good times with bless people.
You're no stranger to travelling outside of skateboarding's comfort-zone destinations. By now you must be well versed in adapting to different environments and cultures, rather than treating every trip like a weekend in Barca. Did you do any research beforehand to prepare yourself?
Not really this time. As this trip was coning up I was more gravitated towards just going skating and hitting the road. I had some shit going on before too, so the trip was a much needed reset button. Thank god for whoever gave James Griffiths life so he could bless mine with some serious light.
There's a huge South African skate diaspora community in London – did you get any tips/advice from SA mates re spots/parks/local things to take in whilst you were there?
I got told to avoid 'boet' bars, (I still don't know what they are) and got given a heads up on some people to keep an ear out for. My knowledge pre-trip was mainly centered around Skateistan and Indigo to be honest; outside of that I just kinda let the road do what it does. The SA connect in the smoke definitely got me excited about some things beforehand.
So you went to Durban and Jo'burg right? How did the atmosphere of the two cities differ? What about in terms of the skate scene in each?
Two very different places for sure. I found the scene strong in both places – the SA skate community in general was pretty tight knit so it's got pretty strong foundations from my perspective. All the boys that hooked us up were nothing short of legends, sorting everything up from spots to knowledge, liquid motivation and mind moss… big up Levi, Ali, Dallas, Paul, Tristan and Luis!!
Did you go to any other places, say like smaller towns or anything?
Not really, we only had 11 days really, whereas with a country that big I'd wanna hit it for a good month and a bit. I'll be back though no doubt!
Part of this trip involved you guys heading over to Skateistan in Jo'Burg and given your own personal involvement with a number of skateboard-related charities, I figured it would be interesting to get your take on that. Have you been involved with Skateistan directly before?
Yeah I'd been to the one in Cambodia a few times whilst floating around south east Asia.
From a personal perspective, based on your own experiences – how does skateboarding function in an environment like Nepal or Jo'Burg – what does it bring to the table?
The underlying foundations of skateboard-based charities and NPO's like Skateistan and SkatePal are genuinely grounded in compassion and a responsibility to share, build and create something that is going to benefit the masses. They are essentially humanitarian endeavours with very real effects. I pretty much speak for everyone reading this when I say that skateboarding is a blessing in so many ways, whether we are conscious of that or not. One beautiful thing about skateboarding is that it feeds your imagination and it manifests itself in reality. Imagining a trick at a spot, or visualising how a trick works that you really want to do and then actually making that happen – you are essentially creating and shaping your reality. That process involves learning things like perseverance, discipline, focus, how to deal with and overcome frustration: all things we could all benefit from as humans. Imagine if we're taught that at a young age and how that exact principle can be beneficial in all aspects of life if channelled in the right way. That's just one positive thing about skateboarding from the top of my head that I feel is worth sharing with people and there are countless other aspects too. Plus, in places like Nepal and Jo'burg where there is much adversity, I feel as though these NPO's and charities are in a really unique position to enrich lives.

Photo James Griffiths
Skateistan incorporates skateboarding into a wider educational remit right? How does that dynamic work from your own experience?
It's interesting because it becomes something that comes from more than just skateboarding, it becomes something that needs real structure and regimentation, whereas I haven't found a way to do that as of yet. I'm of the mindset that I can only open the door but it's up to those it resonates with to walk through. But with Skateistan I feel that it works because that love for skateboarding it still at its roots and skateboarding is about fun, and it's through the fun and joy that those lessons and benefits trickle through. What I saw at Skateistan was very positive.
So the Jo'Burg Skateistan is in the Central Business District from what I understand, presumably to insure a safe environment that is accessible via the public transport network – can you give us a run down on what's there and how it works?
So when we were there a lot of the time was spent just ripping round the park, we ran a workshop for an hour with the kids there too, which was so refreshing and rewarding. They run some games there beforehand, it was a real positive atmosphere.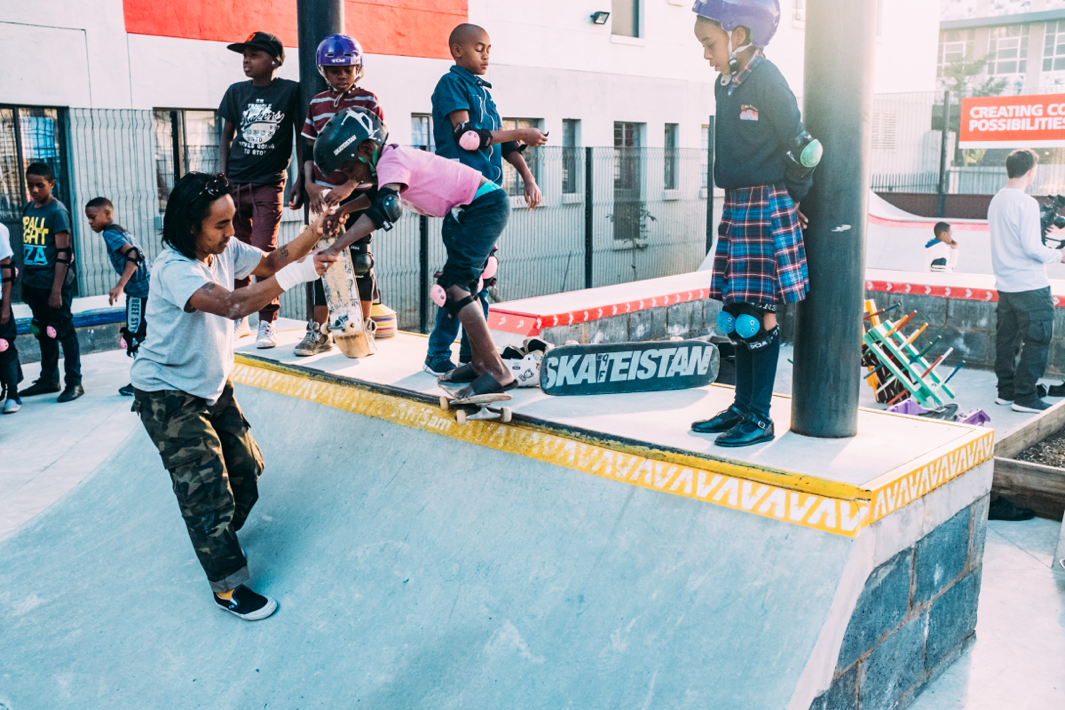 Photo James Griffiths
Isn't part of the building itself constructed from storage containers too – must be quite a sight.
Yeah, it's trippy! The skatepark is really good too, flows incredibly well.
One of the stated aims of the Jo'Burg setup is to concentrate on involving and empowering women via the Skateistan context – was that something you saw? Was there a good cross section of men and women involved there?
Yeah, it was really enlightening to see actually. I taught a group of say 6-7 kids and there were two girls in the group. It was good to see that the girls weren't segregated and were involved, no gender-separation, which I think is definitely positive. Just as a side note, men have oppressed women for an unforgivable amount of generations, so anything that women do to feel empowered and more connected with themselves, (without inflicting pain on others of course), I fully back. It was refreshing and enlightening to see. Both men and women were involved in the deliverance of programs so the kids have both genders to look up to for advice and guidance.

Dylan Hughes frontside flip at Skateistan – Photo James Griffiths
So how did your visit work? I'm assuming that it wasn't really a 'demo', right? What went on – were you skating with/coaching/getting involved in the Skateistan programs?
We essentially just shredded for a few hours, which was followed by workshops and an open skate session. The kids were hyped watching the skating, watching Beckett's transition nonchalance would have any person's jaw on the floor.

Sam Beckett backside disaster to sugarcane – Photo James Griffiths
Did you chat to any of the students? What was their perspective on you lot being there?
Sort of what you would expect. They were stoked on watching the skating, it's not too often people from teams and such would come and visit so the stoke was real.
It seems as though the charitable/educational side of skateboarding culture is firmly established globally now and something that adds far greater significance to what's nominally just 'messing around on a kid's toy'. Explain to people why the work of people like Skateistan, SkatePal, Skate Nepal, etc is important.
It goes back to what I said before. Skateboarding is a blessing and that blessing is no good to anyone if it isn't shared. Channelled in the right way, skateboarding gives joy and purpose to lives – one that is far greater than the insatiable pursuit of money. It is the teacher of so many lessons, it has the power to be translated into other areas of life, whether that be relationships, other creative pursuits, attitudes to working life, etc. It can help you understand not only the mechanics of how things work, but also how you yourself work. It is a powerful tool in understanding yourself. These organisations and charities have the goal of passing on the gift of skateboarding to new generations and that to me is a worthy responsibility.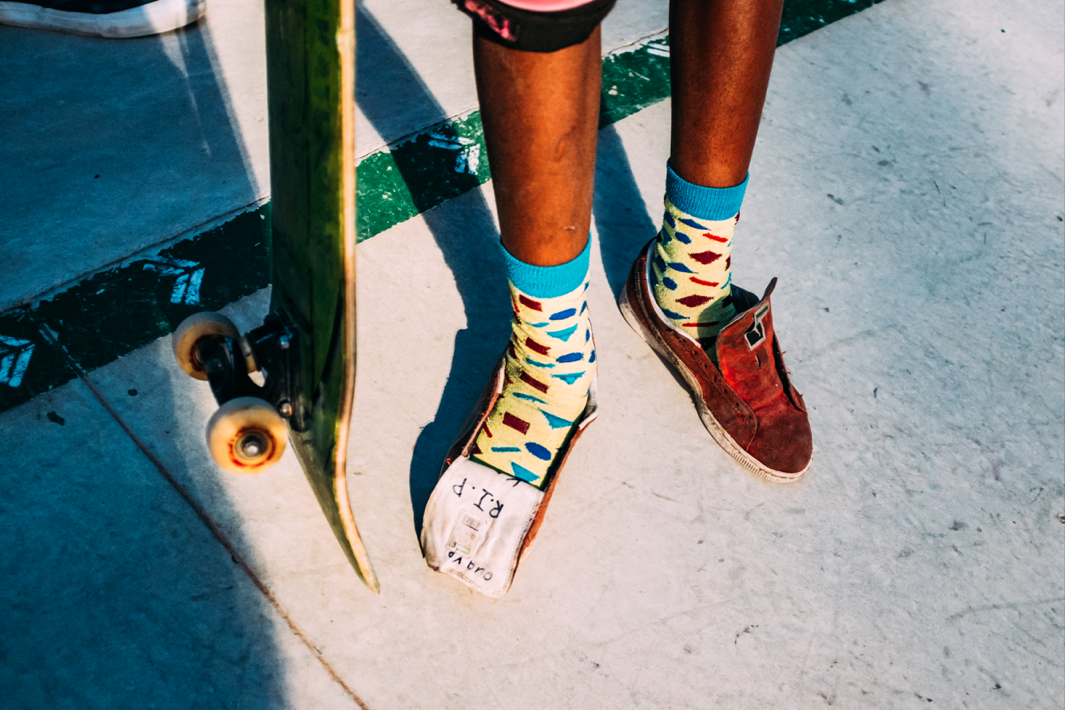 Photo James Griffiths
On a wider tip – if you pay attention to certain portrayals of South Africa, it can seem quite a frightening and lawless place – how did your experiences on this trip stand up to those preconceptions?
Well Johannesburg is notorious for crime, hence it has been coined the 'most dangerous city in the world'. Thankfully nothing too dramatic happened other than finding ourselves in downtown Jo'burg as the sun was setting and that ain't a place you wanna be after dark. Don't stop at the robots (traffic lights) in sketchy areas of town late at night to avoid balaclavas and pistols waved in ya face. It was all hearsay to us as far as our own experiences were concerned though, and thankfully nothing more, that feeling alone is enough to put you on edge which creates a pretty uneasy feeling at times.

Jordan Thackeray over the spine to tail bash – Photo James Griffiths
Where was your favourite destination along the way and why?
Indigo: It's pure magic unlike anything I've seen. The place is in the middle of valley of a thousand hills – it's so picturesque and surreal. I didn't know Zulu kids could shred that hard, and why wouldn't they progress fast, especially given that they're constantly surrounded by the beauty of that place? It also sparked a new found love for skating tranny, so thank you to Beckett and Thaxx for sharing some transition based wisdom with me. Flowt.

Sam Beckett crailslide – Photo James Griffiths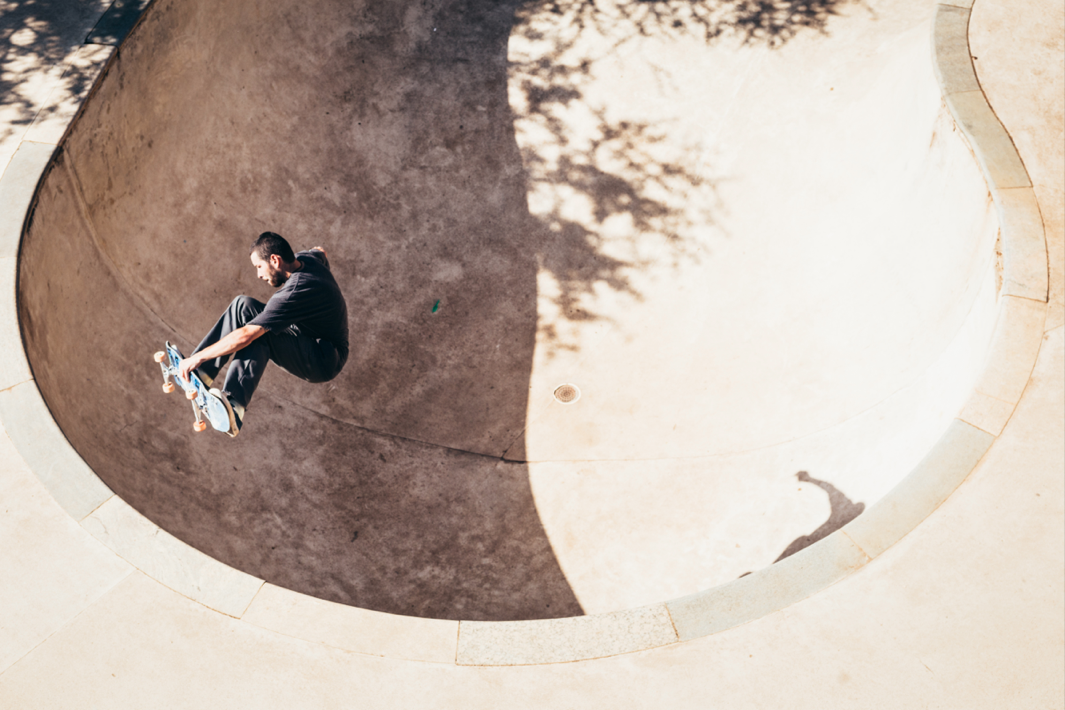 Sam Beckett frontside air – Photo James Griffiths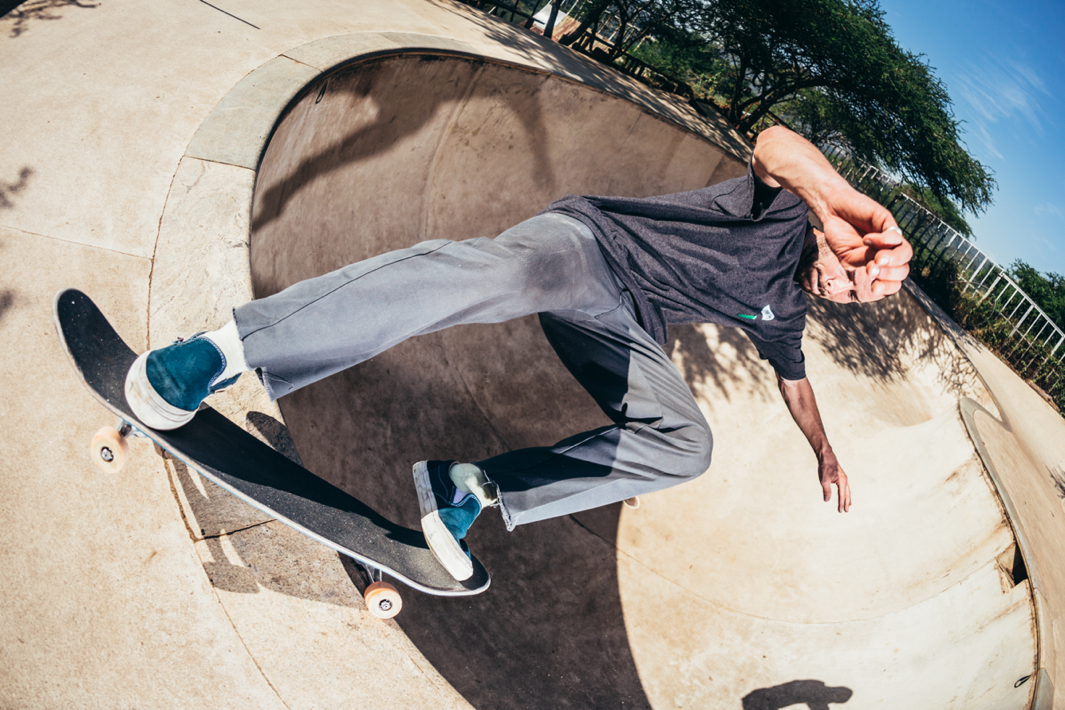 Sam Beckett hurricane to fakie – Photo James Griffiths
Is it somewhere you're keen to visit again?
100% – life will definitely bring me back there.
What's next for you D? You're constantly on the move so I'm guessing that you're responding to this in an airport somewhere prior to disappearing to somewhere else. What have you got planned for the rest of 2018?
Right now I'm in CPH with no board thanks to alcohol induced endeavours in Helsinki. I'm going back to London soon for a few weeks to work on some Skate Nepal related things, earn some coin and then onto the next which is Latvia, Berlin then eastern Europe. Life is bloody exciting, I won't lie.
Any last words?
Yes. Sort of unrelated but I learnt something pretty profound whilst in the van on the road with all the boys I consider now as very kindred spirits. 'Wisdom is seeing adversity as opportunity for growth'. Oh and simply 'gakistan'.

Sam Beckett tail grab – Photo James Griffiths