Photo – Grant Payne
Where are you from and how did you get into skating initially?
I am from Johannesburg and I started skating when I was about 12. My cousins all got skateboards for Christmas and I wanted in on the fun so I bought one as well. I got better than all of them, so they quit and I just never stopped.
Was the VPS Africa event the first time you've skated a bowl contest?
Yes first bowl contest I've ever skated – I normally skate street.
There seemed to be great camaraderie amongst the women at the contest, did you all know each other beforehand or did you meet there?
Majority of us have met before and we always chat and share the hype over social media. Even though we are all from different places in SA we all somehow end up at these awesome skate events together and just have a whole lot of fun. We definitely always support each other and are each other's biggest fans!
Do you think a contest like this will inspire more women to start skating?
I definitely think so. I am hoping that by seeing more girls skating and competing that this will inspire and motivate more girls to pick up a board and join us.
There are a few women's skate crews or collectives popping up around the country, are you a part of any, and if so, can you tell us about it?
I skate with the ladies from No comply Coven in Jozi. Started by Alicia Van Zyl – the crew has grown so much over the past year and so many more women are stoked to skate. They are an awesome group of really motivated and dedicated ladies. I often join them when we have super fun city skate adventures and also whenever they arrange a skate session at any of the local parks.
Do you see interest in skating growing amongst women in South Africa, and how has the attitude towards skateboarding changed?
I see a big interest in skating growing amongst the ladies here in SA. A lot more girls are actually giving it a go and are having fun with it also. I work for Skateistan and we have a few young girls that are absolute rippers. I am hoping they continue the stoke and keep growing the scene amongst the ladies.
You have a pretty interesting job that involves skateboarding, can you explain exactly what it is that you do?
I work for a non-profit organisation called Skateistan – basically we use skateboarding as a tool for empowerment amongst the youth in Jozi. The kids join us daily, and in exchange for the time on the skate park they are required to join a program we offer where we give them access to many different educational opportunities. The programs are free for any kids that want to join and we also have a major focus on girls participation. Currently 45% of our students are female.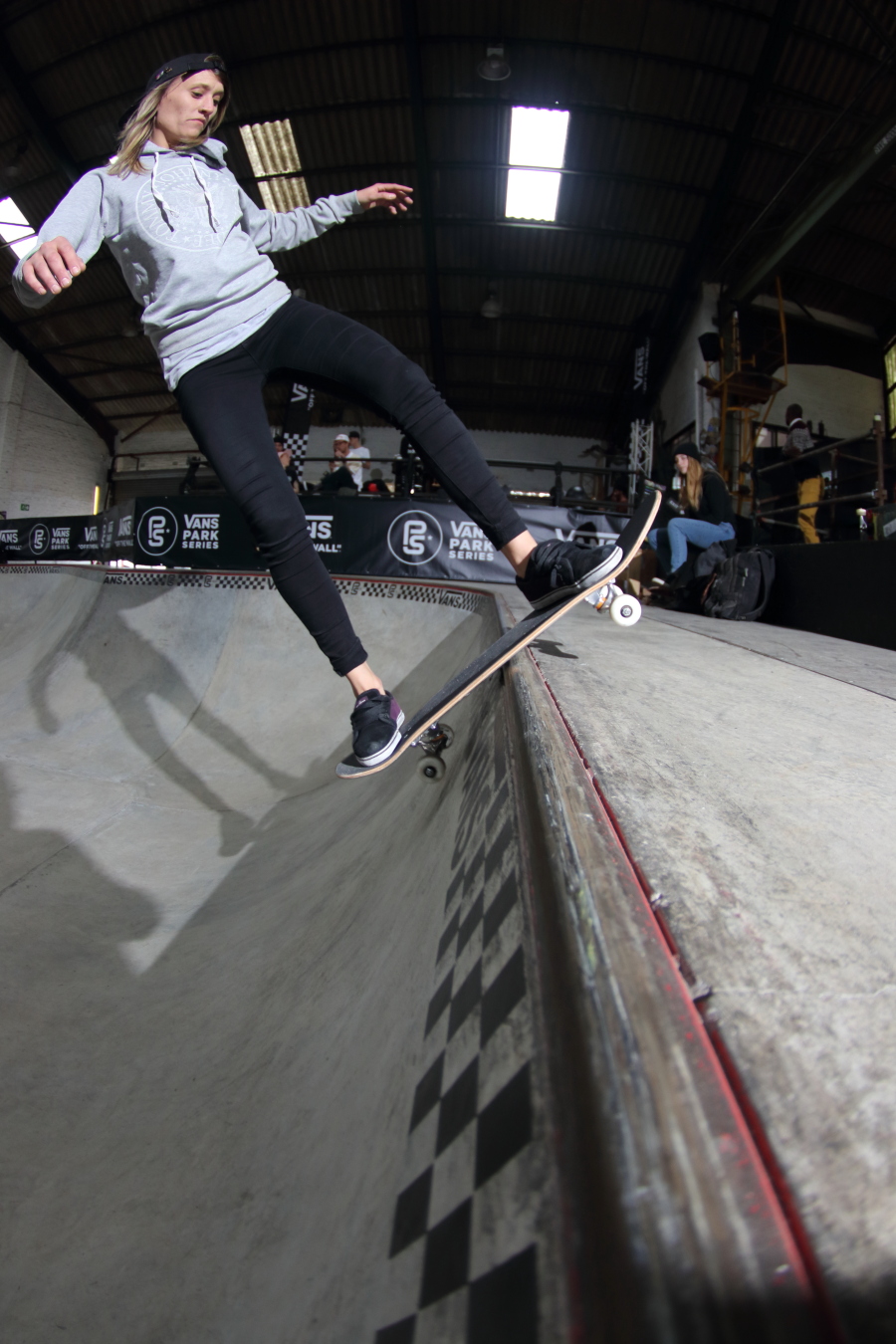 Kelly rock to fakie. Photo – Clint van der Schyf
It's amazing to see so many young girls involved in your program, are there any girls that you've seen that you think will stick with skating and progress as they grow up?
Yes! A few of the girls that have been with us since we have opened show real potential. We often hold small skate competitions for the girls so they are even familiar with competing. I definitely see a handful of them progressing and also keeping skateboarding a part of their lives.
The level of women's skating at the VPS Pro tour stops is really progressing fast each year, do you follow women's skating internationally at all, and if so, who inspires you the most?
It's insane. I am a huge fan and follower of the international female skate scene. Nora Vasconcellos is top of my list – she is an amazing skater and her attitude is incredible. Some other really amazing inspirations are: Brighton Zeuner, Jordyn Barratt and Hannah Zann. The amazing thing is that I got a chance to meet these ladies in person when I attended Exposure in San Diego back in 2016.
Have you personally felt a change in attitude towards women's skating locally, since the global resurgence in women's skating took off over the last couple years?
I have felt a big attitude shift amongst the skate community. It is not as big a deal anymore to be a "girl skater" because of the big and fast growth of female skating all over the world. The guys are also way more welcoming than before – I have always got support from the guys I skate with though, but I feel they are more willing to help the beginner girls out now.
Knowing that the Continental Championship is an annual event, do you think you might start skating more transition and getting into bigger transition ahead of next year?
Hell yeah! I have always wanted to dip my feet into the transition skate scene. Definitely going to skate as much tranny as I can from now on. It is really a lot of fun, but also super scary.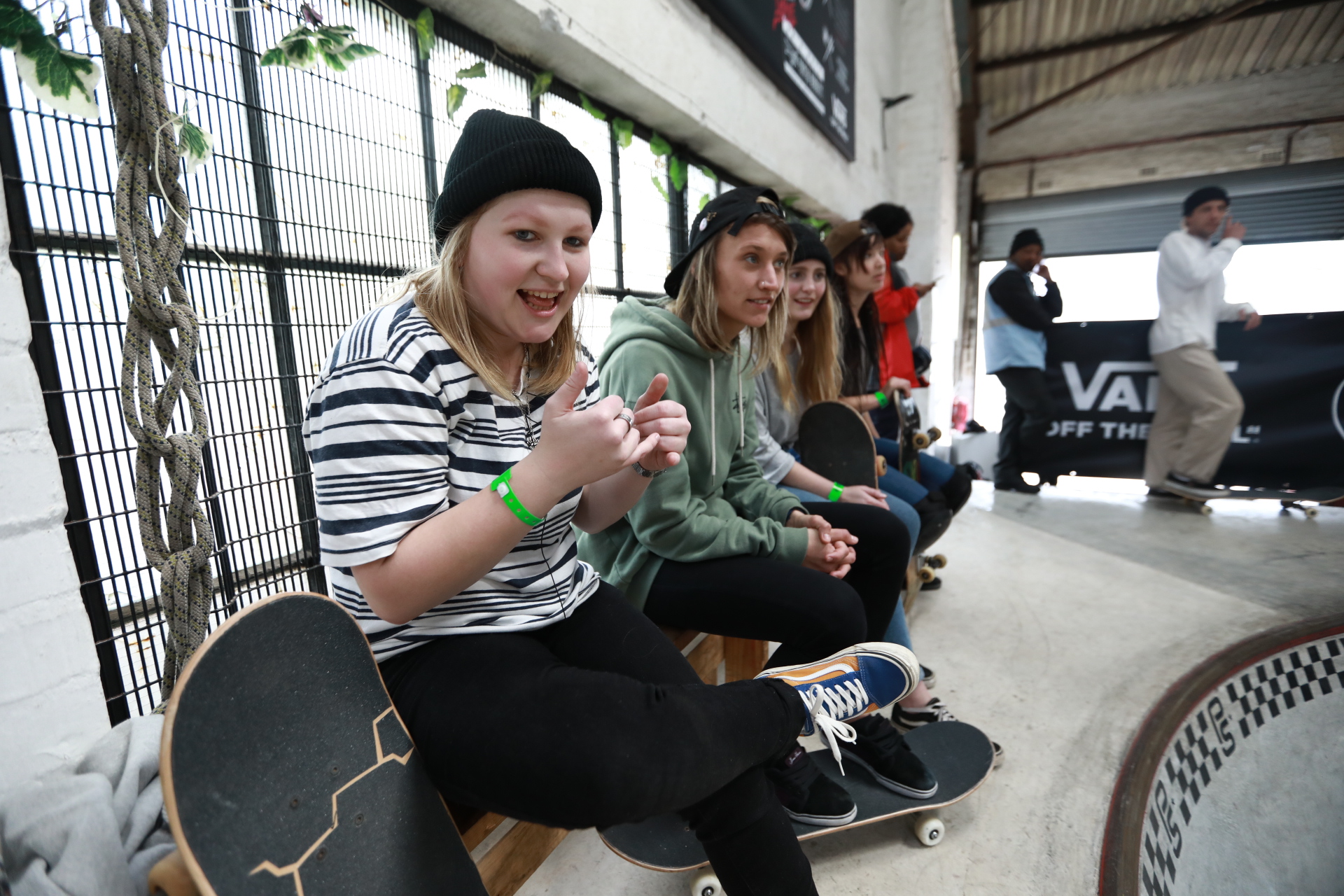 Photo – Grant Payne
Do you perhaps have any advice for women or young girls that want to get into skating?
Just go out and have fun. Don't be afraid to fall and get back up again. Skateboarding will definitely change a person's perspectives on things. Also, don't ever let the boys intimidate you.
And if someone is looking to get more involved in the women's skate community, can you recommend how they could get in contact with any existing skate groups?

–       No Comply Coven if you live in Jozi.
–       Girls Skate Durban is another one.
–       In Cape Town Vans also host 'Ladies nights' at The Shred Skatepark (I'm not sure on the exact days).
–       Check out Skateistan and come volunteer.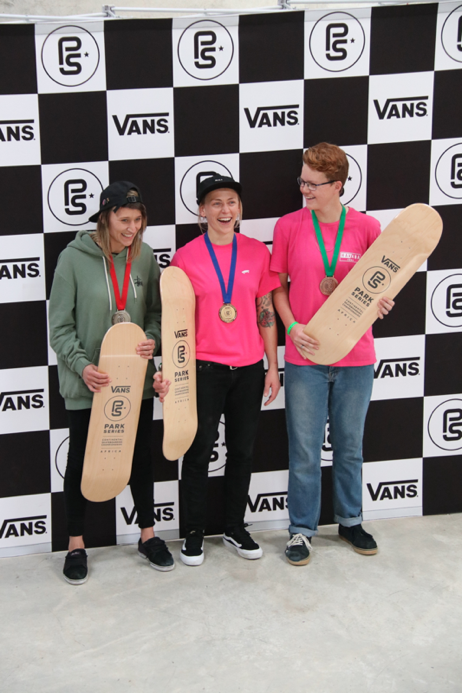 Kelly finished in 2nd place in the women's contest. Photo – Clint van der Schyf