If you've had anything to do with a skateboard for the last 25 years, you know that Geoff Rowley needs no introduction. I got to sit with one of the gnarliest of all time in Paris this weekend, fresh off the completion of "Take It Back", the latest Vans video.
Interview by Adrian Day

We're going.
Geoff: We're live.
Are you, do you feel, are you as revered in Liverpool as you are in the States? In a sense you're an English guy, but you have, sort of in skateboarding, like iconic American status. So, I mean, when you go to Liverpool is it just back to normal, like no one is too bothered or…
Geoff: I mean, I'm not the guy necessarily to ask that. I have similar experience kind of everywhere I go. Do you know what I mean?
Yeah.
Geoff: I mean the city of Liverpool is so warm, it's a warm place, the people have got heart, you know. I get that, when I go home. And that's everything, right? I mean friends, good people are everything, and where I'm from gives me that. And I value it huge. And it allows me to live in America, feeling secure, right, knowing that my hometown and where I'm from, I'm in touch with it.
Do you feel it's necessary to go there regularly, to ground yourself?
Geoff: I mean all of my family is still there, so when I go home, I don't skate every time I go home, as much as I would when I'm at home in California.
Yeah, of course.
Geoff: Right, because when I go home to Liverpool, I'm going home to see the people that I grew up with, and to hang out with my parents and family. Alright, so that's most of my experience.
So, I don't feel like I have to go there, I go there because I want to, and I've been there between one and five trips every single year, for the last 30 years, or however long it's been. That shows you something. I go back, without question, my whole life. I must like it.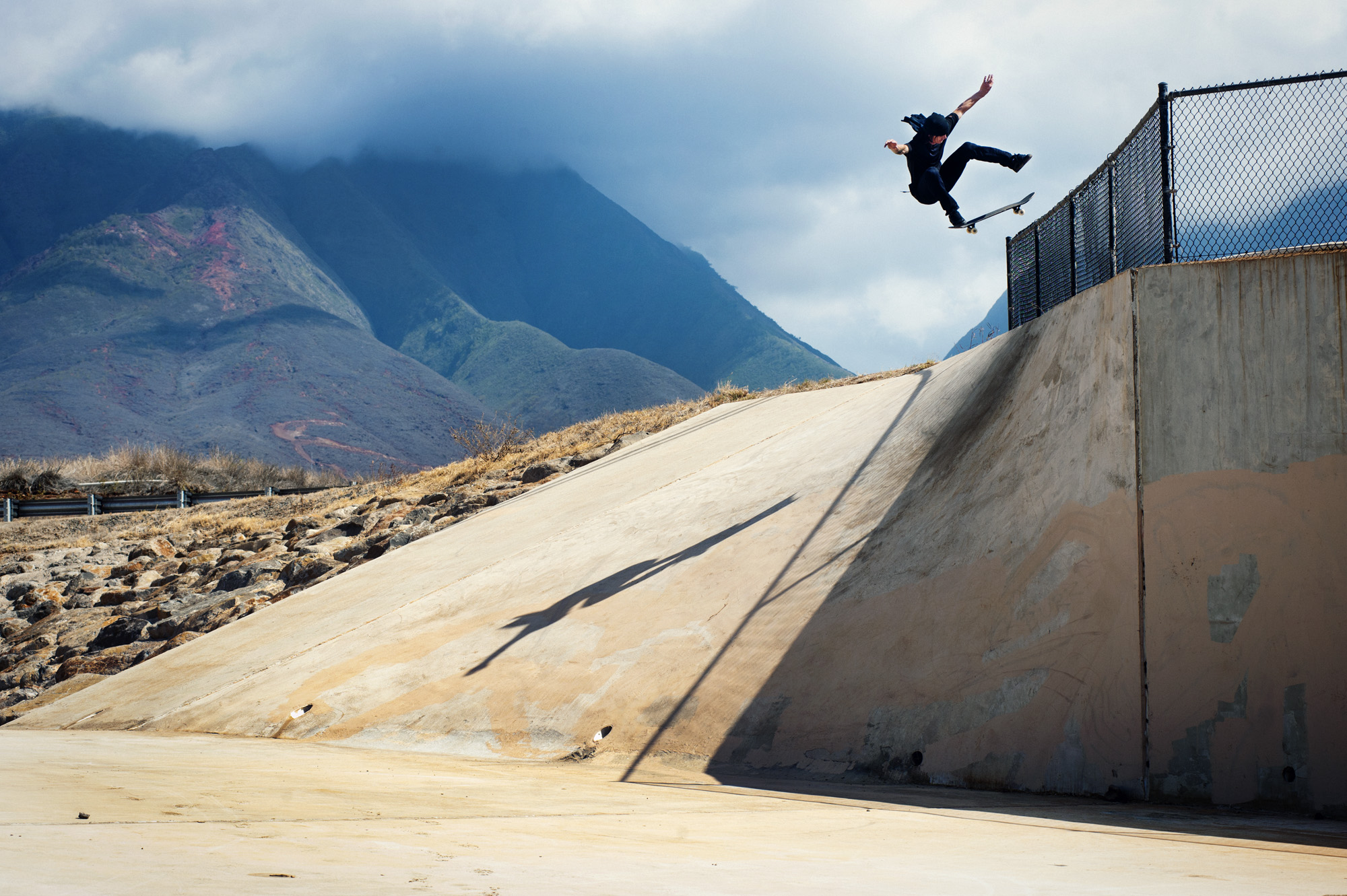 Photo by Michael Burnett
And I mean, back in the day, when you grew up there, Liverpool was kind of rough.
Geoff: Everywhere in Europe was rough. In the 80's Europe was just a gnarly place, in the bigger cities. There was no cameras. And you can imagine, if there was no cameras in the cities now, with the violence that we have. Then it was nothing short of brutal. You know. And Liverpool was a tough place. It had the highest unemployment rate in the country, and the highest teenage pregnancy rate. It was a hard life, for a lot of people in Liverpool. And I grew up in that environment, but it made me who I am.
I remember once, when I was a kid, I read an interview with you, and you spoke about guys had your arm around your back, like attacking you in the street.
Geoff: I've seen it all.
It was a regular thing?
Geoff: Yeah.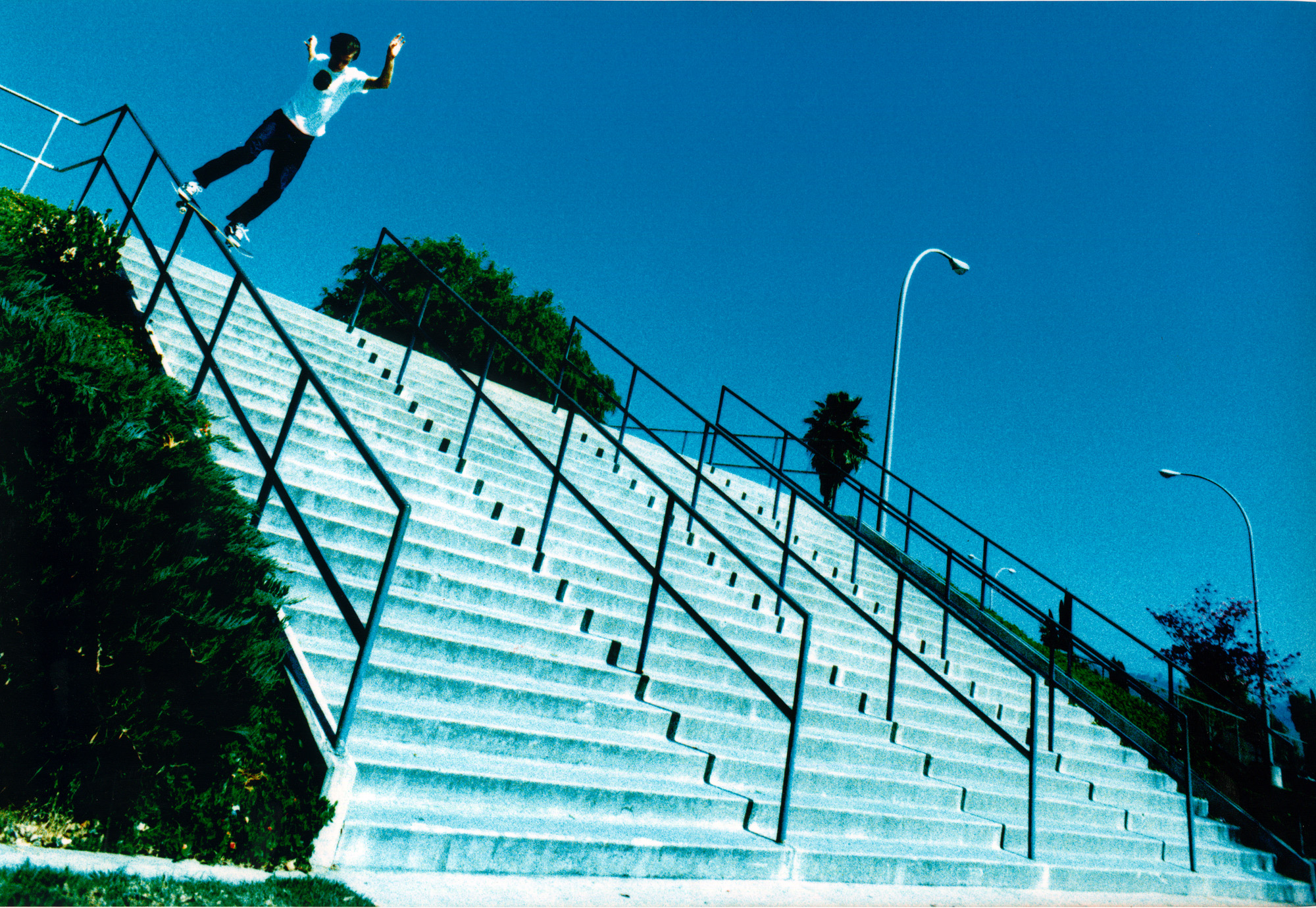 Photo by Daniel Harold Sturt
So you look like you've been going in hard on this video.
Geoff: Yeah, we just finished the video last week.
That's amazing.
Geoff: And I took a pretty rough slam, about four weeks ago, and it's going to be a while before I can skate, because I'm still figuring out what I did, and where I'm at, and that's skateboarding. It'll serve you.
Yeah, I was going to get to that.
Geoff: You can see right now, look at that on my knee, that's called a bursa.
Oh dude.
Geoff: If I push down here, it stays there.
I burst my bursa on my hip, last year. It's fucking terrible, my whole leg was bruised.
Geoff: I've got on both knees, my pelvis. I slammed, my toenail ripped off inside my shoe. This toe is black. All the top of my foot was black. And then the rest of it doesn't bear to mention.

Photo by Michael Burnett
So, on this video, has it been a harder process than previous videos, or is it just the same old story?
Geoff: Same process. Get psyched on skating, go out and skate as much as you can and push yourself as much as you can, and whatever you've got at the end, that's it. You know. But I will say this though, we started filming this video a year ago, we've really only been filming it for about seven months, like consecutively, on and off. And usually videos before that, they take a couple of years to get, and it's not, it doesn't take a couple of years for one guy to get the video part, it takes a couple of years for everybody to be in the same space to push themselves, and it ends up taking two or three years to make a really good, full length skate video, right? We've done it in 12 months. Proud of that.
I was speaking to Ronnie, last year, and he told me about it, like about this time last year.
Geoff: Yeah, and then he got home, his house burnt down, then he blew his whole kneecap in half. And you can see his video part tomorrow, and hopefully you'll understand what that is. He's smiling all the way through. Gnarly.
He's one of the best.
Geoff: He is one of the best.
So you told me a bit about your injury. Were you hospitalised for an injury recently? Like there's no more inside lacerations or anything was there?
Geoff: We'll find out.
Oh really? okay.
Geoff: I don't know.

Photo by Anthony Acosta
So, your iconic shoe, re-releasing now. I kind of always thought that was the kind of shoe that should always stay in the line, to be honest. Like a Half Cab. How much did you update, did you update that shoe much or did you just kind of?
Geoff: Yeah, it was mainly manufacturing updates. We did tighten the shoe up and clean the shoe up. We're using better materials, a tighter vulcanised process than before. And the little things that could be improved, we did, you know. We've updated the sock liner in it, the type of padding, you know. The profile's a little slimmer and lower, and lighter and tighter.
Yeah, because if you go to 1999 it was a little wider.
Geoff: Just that period of time, what we had access to. This is now, you know. So yeah, improvements.
The skate shoes are good these days.
Geoff: Oh, for sure. We've got the best team, best shoes that we've ever had.

Photo by Daniel Harold Sturt
And then I just wanted to ask, how is your board company doing? FreeDome.
Geoff: It's good. It just launched about a week before we came to Europe, right. So it's all go right now, so only just hit the skate shops in the United States.
I saw you did a board with Lost Art the other day.
Geoff: Yeah, I did it.
…really good!
Geoff: Thank you, thank you. That was, you know, that was not just for the event, that was, we did a board, or I drew a board, you know, for the shops. You know, we put it out the other night. So, some of the boards have hit UK, not into mainland Europe yet. It will, but I don't want to do just the norm, I'd like to do it at my pace. And when we move, and do things in different regions, there needs to be something behind that, you know. I just don't want to open up doors, I want to build relationships.
Well, at some point, we have a skate shop in Cape Town so….
Geoff: Okay.
Hit us up.
Geoff: Wonderful! What's it called?
Baseline. It's 20 years old actually.
Geoff: 20 years old! Sick! Yeah, we'll hit you up, how's that?
Yeah, hit me up.
Geoff: Right now I just really want to work with skaters, I want to work with people that own skate shops, and just to do it that way, because, you know, like that scene, and that culture, did so much for me growing up. Like how did I get into skating? I got into skating seeing people skate around with graphics and boards that had so much colour, and more than I'd ever seen before, and I wanted to know where they got it from. They got it from a skate shop that was owned by a pro skater in my town. And it was called Off The Wall. That was the name of the shop. And that was my first exposure to like, skateboard graphics as we know it now, that we take for granted, right. Like back then it was very special. It was like going into a comic book store where, just all this colour and creation all around you. I want to stay in touch with that for a little bit. You know.
Yeah.
Geoff: That make sense?
That was kind of a magical time, I think, actually. It was all new and, yeah, it was just rad.
Geoff: Yeah. But, and a lot of those things, they still have it. Lost Art still has that magic. You go into there, and it's like every skate video you've ever seen, up on the walls, in VHS tape. You know, the fresh kids in town, that are into all the coolest stuff, are in there, along with the dudes that have been skating for 30 years. It's all accepted. It should be.

That's a good place for us to be at, I think.
Geoff: Yeah.
And I think it's, yeah, bringing it all back to skate shops.
Geoff: Or just always supporting them, right. People say it, but what does that mean? It's the person that owns the shop. Having a relationship with them. Doing an event, doing something that motivates that scene, right. And let's that scene know, "Hey, you can do it. Anyone can do it. The world's your oyster", right?
Get involved.
Geoff: Yeah.
Cool Geoff, that's pretty much it, man.
Geoff: Thank you.
Thank you very much.
Geoff: Yeah, you're very welcome.

Photo by Ryan Allan