Ballies Skate Camp
Date:
3 and 4 May 2014
Location:
Indigo Skate Camp, Valley of 1 000 Hills, KZN

Confirmed old school / Ballie Skaters in attendance:
Dallas Oberholzer (founder of Indigo)
Eben Combrink (legendary big ramp skater circa 80's)
Gary Smith (SA Champ 70's)
Brett Lazurus (first skater in SA to have a pro board)
Andrew Morck (skateboarding shoe designer)
Brett Shaw (film producer and current skater for Vans)
Indigo Skate Camp will be unveiling 'The History of SA Skateboarding Wall of Fame' at which they will be showcasing all of the important players in the scene, stretching over 3 decades – 70's, 80's & 90's
Saturday's program:
Ease back into skateboarding on a variety of skateboarding terrains, from flat land old skool sessions, to mini ramp, to pool skating to vert skating. Prizes awarded for best tricks in all disciplines, prizes from skateboard equipment, Vans shoes, Surfboard. Ceremonial dinner braai (bring your own) and 'story telling'.
Sunday's program:
Chilled morning 'State of Skate' discussion on where skateboarding currently stands and it's future in SA. Free skating all over the facility and optional guided walks through Isithumba Village.
Facilities on site:
Food and beverage on sale throughout event
Child Care Centre – The Indigo Youth Centre will entertain youths on site while the Ballies try and feel young again.
What to bring:
Skateboard
Swimming gear for the river
Food for Saturday night braai and ceremony
Tents – most accommodation is booked already however there are still home stay possibilities in the neighborhood so please enquire with Dallas.
Food, refreshments and cold beer will be on sale
Sunday breakfast will be catered for at R50 per person
Costs:
R50 entrance fee for adults, children free
Camping R100 per person
Note:
Safe parking, ablutions and hot showers on site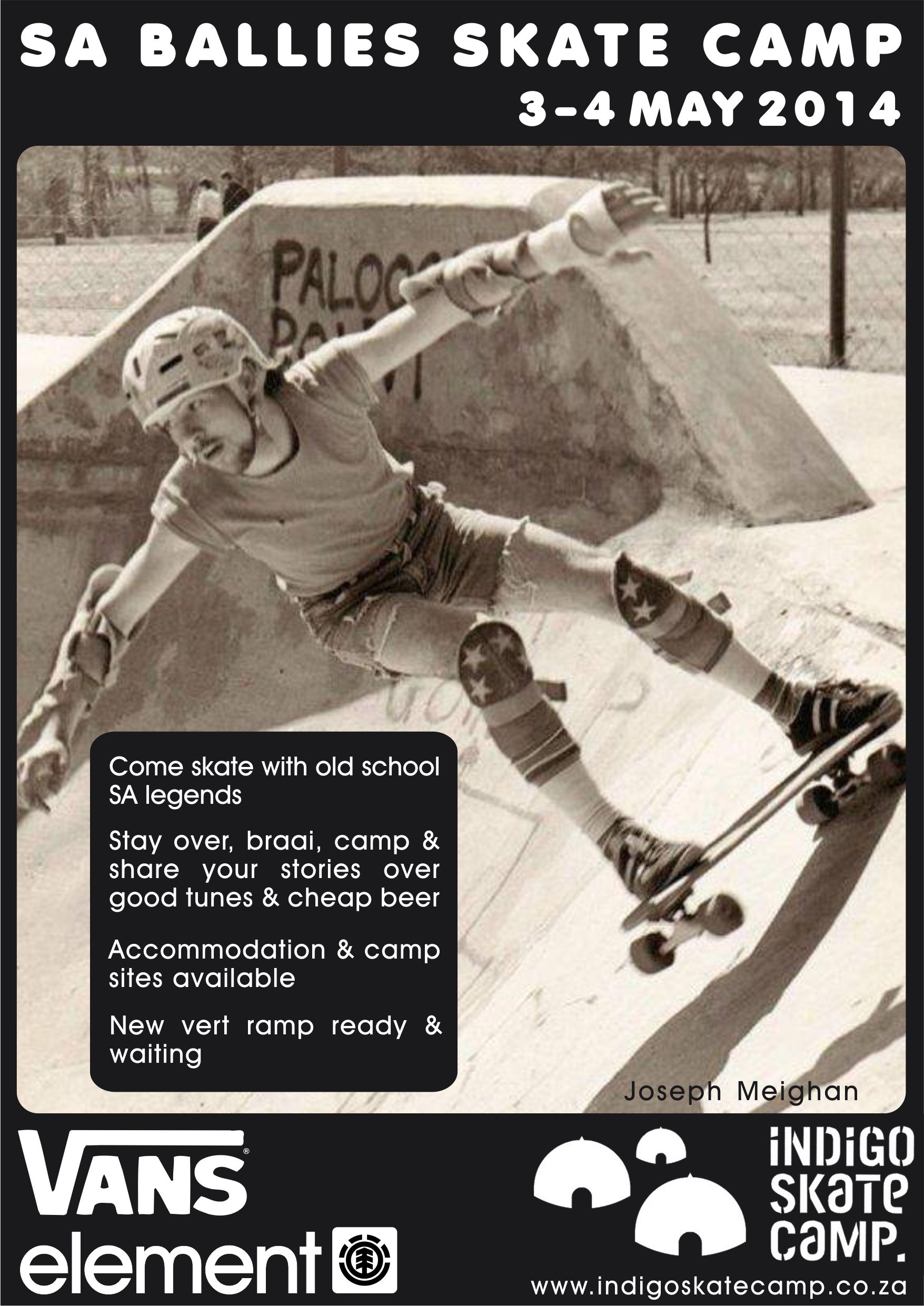 More on the event concept:
If you are over 30 and still love hitting the streets on your skateboard, constantly in search for new banks & trannys or still get stoked on just bombing a hill. You have seen skate parks come and go, witnessed the scene almost disappear entirely and how it has come back to the masses. Skating means more to you than just a sport, it's a lifestyle, it's in your blood.
This is what the essence of the SA Ballies Skate Camp is all about. It's a gathering of this diverse community of creative souls, where for one weekend we can go back in time and have a care free skate session with some of SA's finest old school skate legends. Bring your family along (kids included) to this picturesque setting in the KZN Valley of a 1000 hills, stay over, share stories and reminisce about the good old days to some good tunes and cheap beer.
SA Ballies Skate Camp is hoping to become an annual event, to keep the scene alive and for old friends to stay connected.
For more information and bookings contact Dallas 083 453 6385 or Kevin 084 843 5256 or head over to www.indigoskatecamp.co.za