Red Bull 'Unlocked' is going down at Library Gardens in central Johannesburg this Sunday.
Learn more about the history of this famous South African skate landmark:
Background story and edit originally created for Reprobait – By Luke Jackson
The mixtape contains footage filmed primarily between 2003 and 2009 with a few clips thrown in from other periods.
Featuring (in order of appearance) – Neil Hughes, Gavin Scott, Adrian Day, Hennie Claasen, Loucas Polydorou, Gavin Morgan, Kanya Spani, Siya Ntuli, JP du Preez, Jansen van Staden, Pravesh Manga (Po), Sam Khumalo, Luke Jackson, Bergen Nielson, Thabo Nage, Maanda Mulaudzi and Wandile Msomi.
Skate Footage from AV Skateboarding, Familia and Plankie. Filmed by Clint van der Schyf, JJ Harris and Joubert van Staden.
Every city has their iconic spots where the local skateboarders meet up and roll together. Barcelona has MACBA and Parallel, London has South Bank, Philadelphia has Love Park and San Francisco had EMB and Pier 7. In Johannesburg that spot is Library Gardens. Today it's officially named Beyers Naude Square. LBGs is one of the city's few public spaces and has been since the Public Library's creation all the way back in 1935. The square is situated in the centre of downtown JHB and is often referred to as the 'Heart of the City'.
Skateboarding in downtown JHB is very much in the grain of reacting to whatever you came across opposed to having something purpose built. The skate parks in the suburbs are fun but they only hold a limited appeal. The downtown area exists in a world of its own, a tight skate scene that is disconnected from mall rats and suburban life in general. It's an area that skateboarders from as far and wide as Sunninghill in the north and Soweto in the south travel to, in order to cruise the city streets together. Individuals from completely different backgrounds with a diverse age range all meet up downtown when businesses close on weekends. The chaos of the week subsides and the vast CBD becomes a giant empty maze. From Friday afternoon (on into the evening and even the odd night session) it's going down all weekend until Sunday night.
Many like to hate on it and complain about the rough brick surface but most just appreciate having a place to roll. It's way sketchier than it seems in footage too. I personally glued chunks of chipped ledge back together on several occasions and swept puddles away just to create a little landing area after heavy rains. The spot's golden era (for lack of a better term) was between 2004 and 2009, during those 5 years a lot of amazing skateboarding took place with numbers reaching as many as 30 to 40 individuals at times. Most of the best skateboarding was never even documented. There were just people hanging out and learning new things all the time. Some days it would just be having fun with all the homies while doing lines around the square and talking shit. Other days it would be working on the same complicated manny combination for 3 hours straight until you nailed it. Only the people who were there on the day would ever see it but who cares, everyone was just skating. Unlike today when a lot of people only skate if they are being filmed.
LBGs has an insane history that is very much connected to the history of the country as a whole. I've personally had so many crazy experiences there. I've been in the middle of massive Union strikes from the likes of COSATU and SATAWU. At times there are hundreds (if not thousands) of people occupying the square with massive police presence and media warnings to avoid downtown (in case of violence).
One Friday afternoon while rolling with Wandile Msomi and Danny Kustanovich we were surrounded by a large Muslim protest against a Danish cartoonist's depiction of the prophet Mohammed. The square was stormed and I was surrounded mid 'nose-manny' by an angry mob that proceeded to light a USA flag and a Danish flag on fire whilst screaming. A troop of Police officers and media personal were swirling around this mass of protestors. It is an eerie feeling to be in the middle of downtown and to hear the rumbling of an angry mob coming ever closer up the street.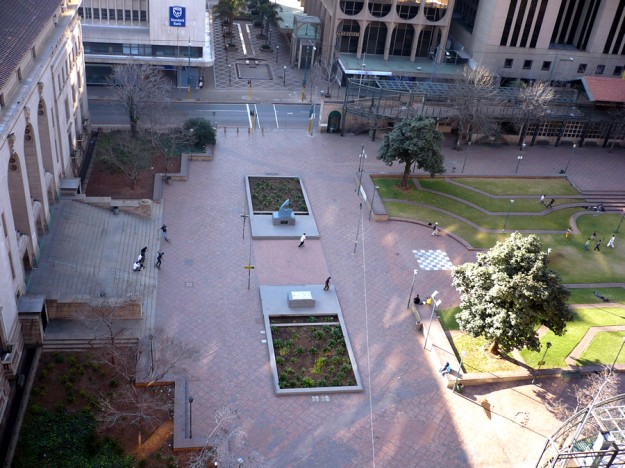 The ANC headquarters are across the road from the Library, which means plenty of action when a protest goes down, not to mention the big Police presence. Even casspirs, riot squads and barbed wire are needed at times. The Taxi driver protest against the implementation of the Rea Vaya bus system got particularly heated. When Jacob Zuma was acquitted at the outcome of his infamous rape trial, where did he address the public, yep at LBGs. Thousands gathered and even the trees were filled with his supporters.
Gun shots, pick-pockets, protests, preachers, impromptu football matches with 30 odd players, TV commercial shoots, Nigerian music video shoots, massive lightning storms, floods, peace rallies, ice cold winter evenings, hot summer afternoons, hawkers, hobos, groups of school kids trying to grab your board and office workers hustling to get home on Friday evenings. We've skated LBGs through it all.
Since 1935 the square has seen various forms and features, for example in the 70s the manny blocks were fountains. Around mid 2009 the Library and the square were indefinitely shut down for renovations. The loss of LBGs had a big impact on the downtown scene. It wasn't until early 2011 that the square re-opened but unfortunately the smooth-topped manny blocks/ledges are now considerably rougher which makes the spot even more difficult to skate. The run-up to the blocks has been altered too which means you now have to approach them from awkward angles. You can still find plenty of determined skateboarders cruising there every weekend. The skateboarders always know what's going on downtown even when a lot of industry people only know what happens in the skate parks.