Photographer Mosako Chalashika from Gaborone, Botswana just did a 10 day trip to Lagos, Nigeria. He sent over some photos, so we took the opportunity to ask him a few questions about his trip.

Local Nigerian Henry Okwubuasi drops in off the rail.
How did you end up going to Lagos and how long were you there for?
We (Knucklehds) got in touch with Wafflesncream through instagram because they wanted to premiere the recent Knucklehds video "Two Two's" at their store. From there they invited us to the Go Skateboarding Day event that they were hosting, and put Kagiso and I on a flight to Lagos. They host this event every year on Go Skateboarding Day, it was the 3rd one this year. We were in Lagos for 10 days.
Who else went with you?
It was only Kagiso and I who went, but hopefully there will be budget for more of us to go next year. Our homie Theo Sean could have come with, but he was on vacation in Manchester. The day we arrived we found Jonathan Pinkhard (from Johannesburg) already at the skate shop.

Botswana ripper Kagiso Leburu backside flips into the Lagos night.
Travel within Africa can be tricky and expensive at times, was it easy to get there, or did you have to get any visas or anything like that?
Going there was pretty straight forward, we didn't have any problems, all we needed was a yellow fever card and Botswana Nationals get a visa on arrival, which lasts for a month. (*Editors Note – South Africans are required to apply for a visa before travel to Nigeria.)
Tell us about the Wafflesncream crew, who are the guys in the crew and what do they have going on over there with their shop and the scene in Lagos?
Wafflesncream is a skate crew that introduced skateboarding in Nigeria. They've got a sick movement going on for them and their family! If you ever want to skate Lagos please hit them up, they will hold you down, deadass! Jomi is the founder of Wafflesncream and Kofo is the manager of the store. The other members are Henry, Fahd, Starboy, Meek Milly and Ziggy. I hope I'm not leaving anyone out. Wafflesncream is LAGOS!
Who were the best local skaters you met?
Henry, Fahd, Leonard, Ziggy, Obiekwe, and then Starboy is a BMXer and he's a G!
Lagos is the largest city in Africa, what's it like trying to skate there?
Skateboarding in Lagos is still developing and it's still new to the people in the city. So they don't really understand what's happening when they see someone skating. It's either they are super amazed and stoked about it or they react negatively towards it, just like any other African city. The only time I experienced a bust with the homies was the day Kagiso and I arrived. We were just skating outside of Jomi's apartment and the security weren't happy with us being there so they ended up calling the cops on us, and it turned into a big situation. But there were times when people were reacting positively and while we were skating a spot a big crowd of people would just surround us and watch, which was beautiful. So there are some ups and downs.
A lot of foreigners traveling to Lagos talk about the 'Area Boys' (also known as Agberos) who lurk on the streets and hustle for money, did you have any encounters like this?
Nah I didn't encounter anything like that. I wasn't really paying attention. I mean there are guys who lurk on the streets and sell drugs, the usual thing you see in any other major city.
Did you skate Victoria Island and the main land, can you tell us about the differences?
We skated Victoria Island, and the stadium too. I really didn't see any difference. I'm not really too sure about the other spots the homies were skating when I wasn't with them, because I had to work with Vice China every day from day 4 up until the second last day of the trip. I was only able to mission with the homies on the first three days of the trip, and on the last day everyone was exhausted so we just hit the beach.
What sort of areas did you guys cover, did you stay more central or did you venture out into the suburbs looking for spots too?
We were mostly in the central area, but we ventured out to some spots, which are a little out of the central area. We passed through a good-looking ditch at one point, but we didn't skate it though.

Kagiso Leburu boosting out of a DIY kicker.
There were a couple photos of Khule Ngubane in Lagos in Session issue 78 a few years back, one was at a Basketball court which we heard was like the hub of the Lagos skate scene. But since then we heard it's not skateable anymore, is there like a main hub or meet-up spot for skateboarders in Lagos?
There wasn't a specific spot where we all met up, every day we hit different spots. We all stayed together in an apartment so there wasn't any need to meet up at a spot. If there wasn't anything going on we just headed out the store and chilled.
Tell us about the Go Skate Day event and what went down?
It was buck! It was in the Zenith Bank parking lot and they also sponsored the event, as well as Red Bull. A lot of people came through to check it out. There was also a 'tricks for cash' jam and a raffle. It wasn't only skateboarders; there were BMXers and rollerbladers there too. The Lagos locals said that this year's Go Skate Day event was the best one they've had so far.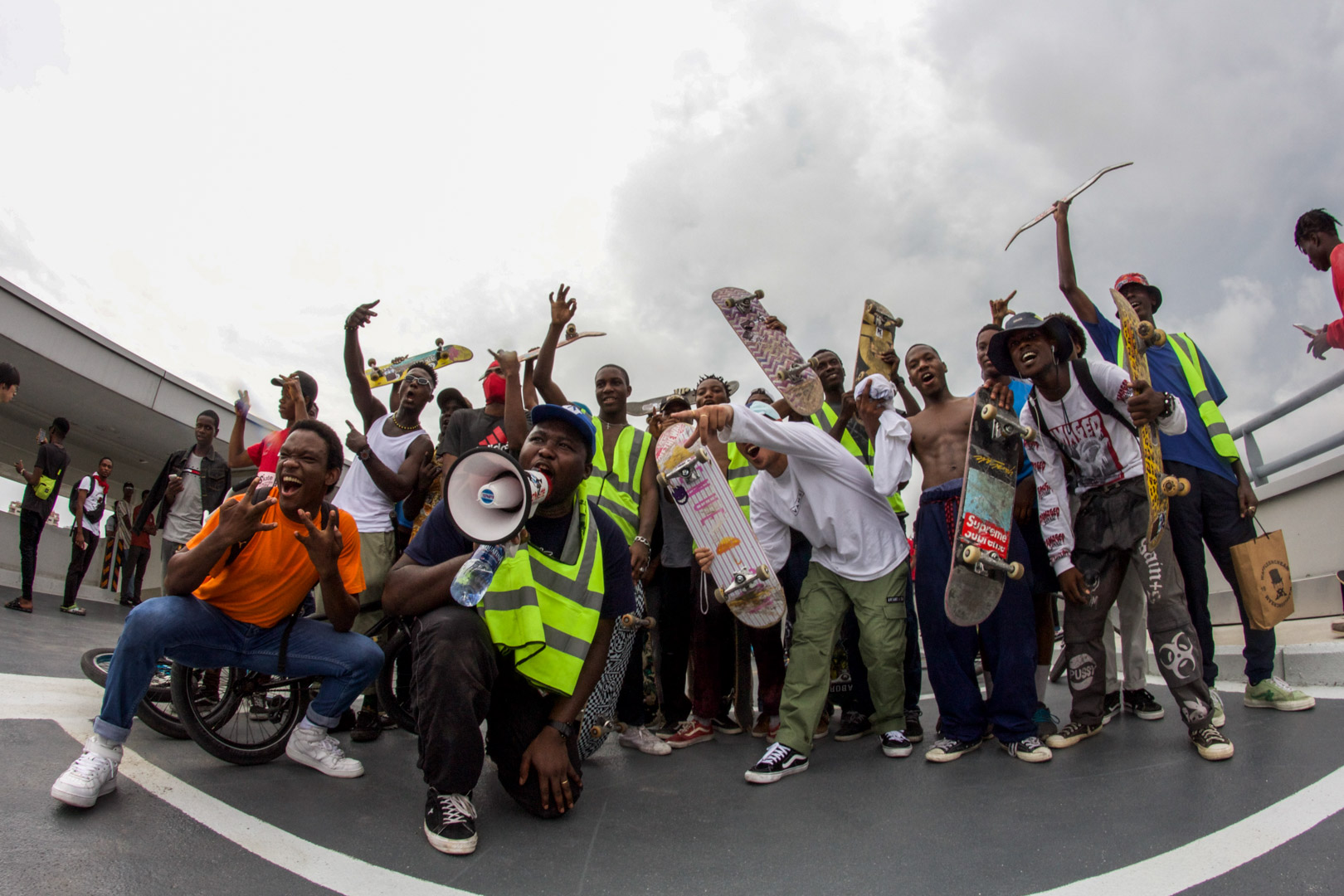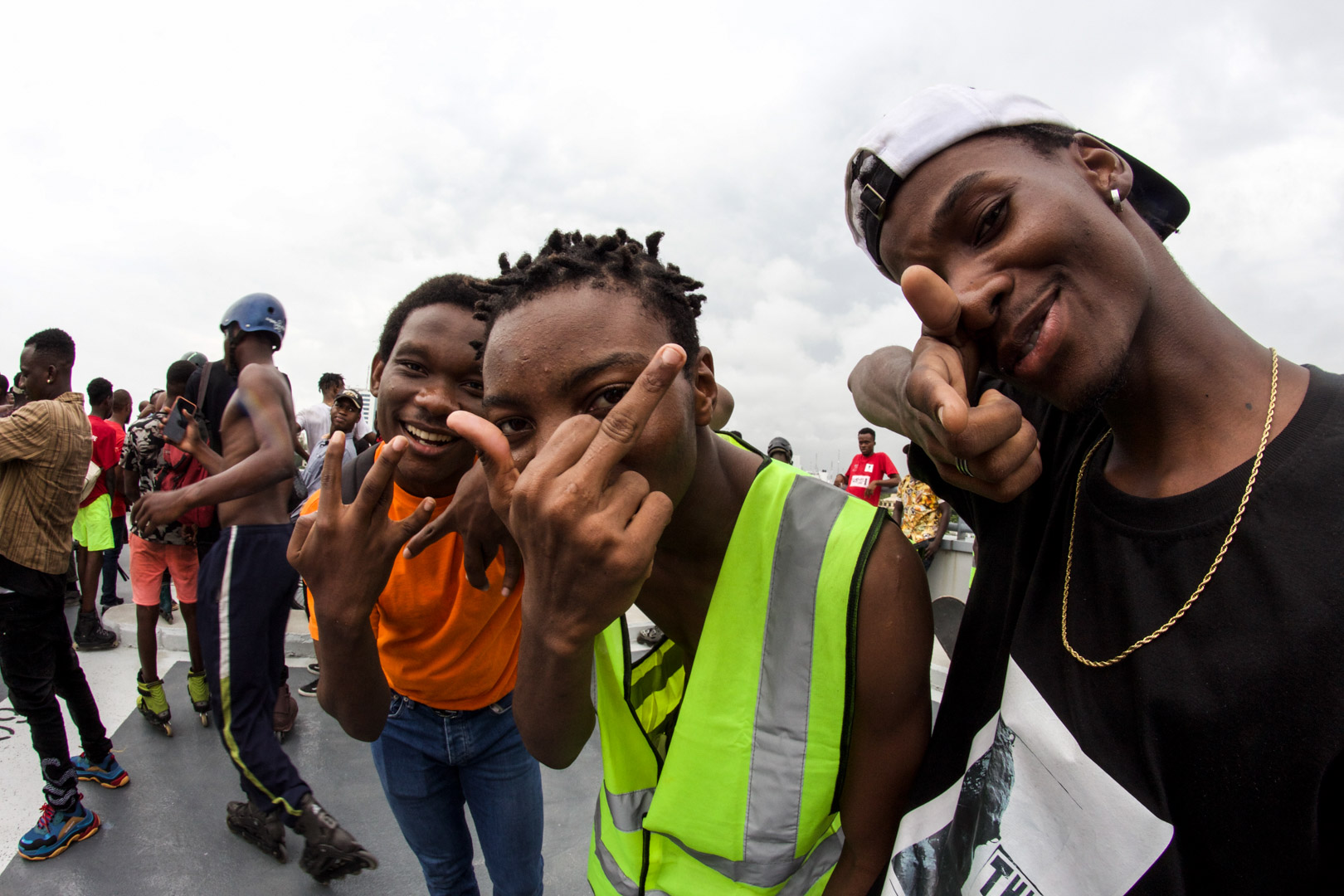 The Go Skateboarding Day event in Lagos.
If someone wanted to go on a skate trip to Lagos, can you give us some personal tips that will help them get by?
1 – Roll with the locals at all times.
2 – Visit the Wafflesncream shop.
3 – Just go with the flow.
4 – When you are cruising through the streets just be cautious of the cars, people in Lagos drive fast!
5 – If you are a chicken lover do yourself a favour and eat at 'Chicken Republic', that's the only place that can compare to the Chicken Licken hot wings. You should get the Express meal; it comes with jollof rice, which is the best rice in the world.
6 – Visit the Jamaican restaurant; they've got some good Caribbean soul food, just watch out though, the food is mad hot!
7 – You have to visit the beach too! The entry is 200 Nairas, which is R7.83. They've got some quad bikes you can ride for 1000 Nairas and the water is too nice! I don't usually swim at the beach, especially when I'm in Cape Town because the water is too cold, but I was in that Lagos water for mad long.
8 – You should visit Fella Kuti's restaurant too!
9 – Get yourself the Nigerian football jersey.
10 – All the negative things you hear about Lagos, leave those assumptions before taking the flight, it's nothing like what people make it seem. Don't let the news gas you up.
Is it expensive to stay in Lagos on a trip, like food and transport?
It's so affordable.
Did you see any surfers at the beach in Lagos?
I met a local surfer there, but he wasn't surfing at the time. There were a few kids that had surfboards on them.

Lagos beach life.
When can we expect to see some video from the trip?
We are making a trip to Jozi in November. Wafflesncream are working on a documentary with Jonathan Pinkhard about the Lagos skateboarding scene. They will be touring different African countries with Pinkhard and hopefully Knucklehds can join them on those trips. But the way I see it looks like the documentary is all about connecting the African countries where skateboarding exists so that we network with each other. I'm sure that if we can visit each other's countries on the regular then that way we start to realize that we are all going through similar situations, that will help to spread awareness to one another so that we can help each other and share ideas that will benefit all of us.

South African Jonathan Pinkhard working on his documentary with local skaters.
I noticed that many of the photos you shot are at night, was that just coincidence, or was it easier to skate at night because maybe there are less people on the streets?
There wasn't really a reason to why we skated at night; we just somehow ended up skating at night. On some days we would skate the whole day and into the nighttime.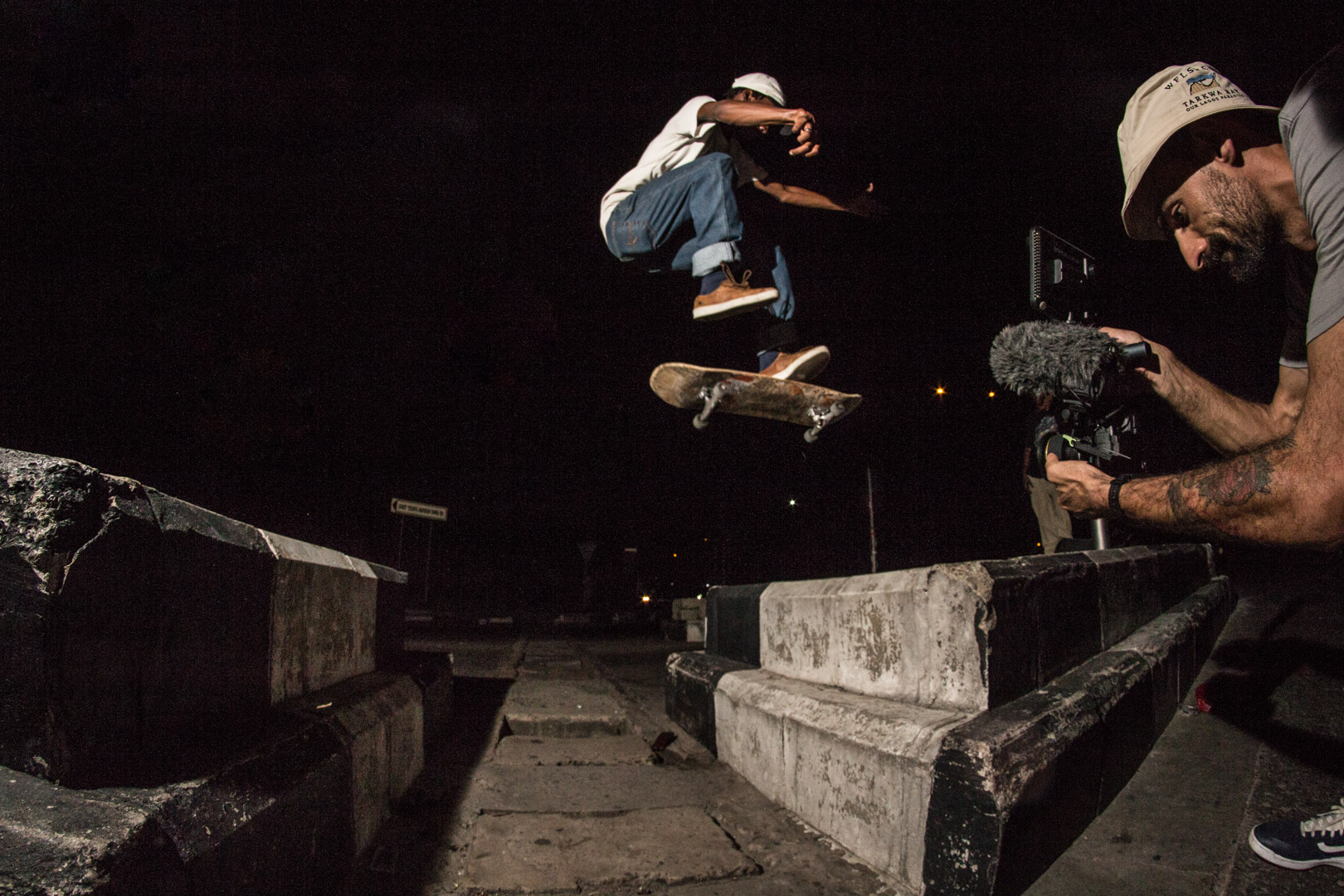 Kagiso Leburu frontside shove-it.

Lagos local Leonard Iheagwam with a heelflip.
Thanks for your insight Mosako, any last words to end this off?
Thanks to Wafflesncream! Knucklehds, Jomi, Pinkhard, Kofo, Kagiso, Theo Sean Moloadi, Meek Milly & his handkerchief, Fahd, Henry, Starboy and Ziggy for those homemade ice creams. Leonard, The City of Lagos, Chicken Republic, Qidong, Avenue & Son, Vice China, Omi, Fahd's family, Ethiopian Airways and skateboarding in the whole African continent. Zenith Bank and Red Bull for the budget, my parents and sister of course, and the Ghanaian skaters. Thank you life and all my dawgs at Main Mall in Gaborone. Salute to all the dudes pushing the skate scene in their own cities/areas from ground zero.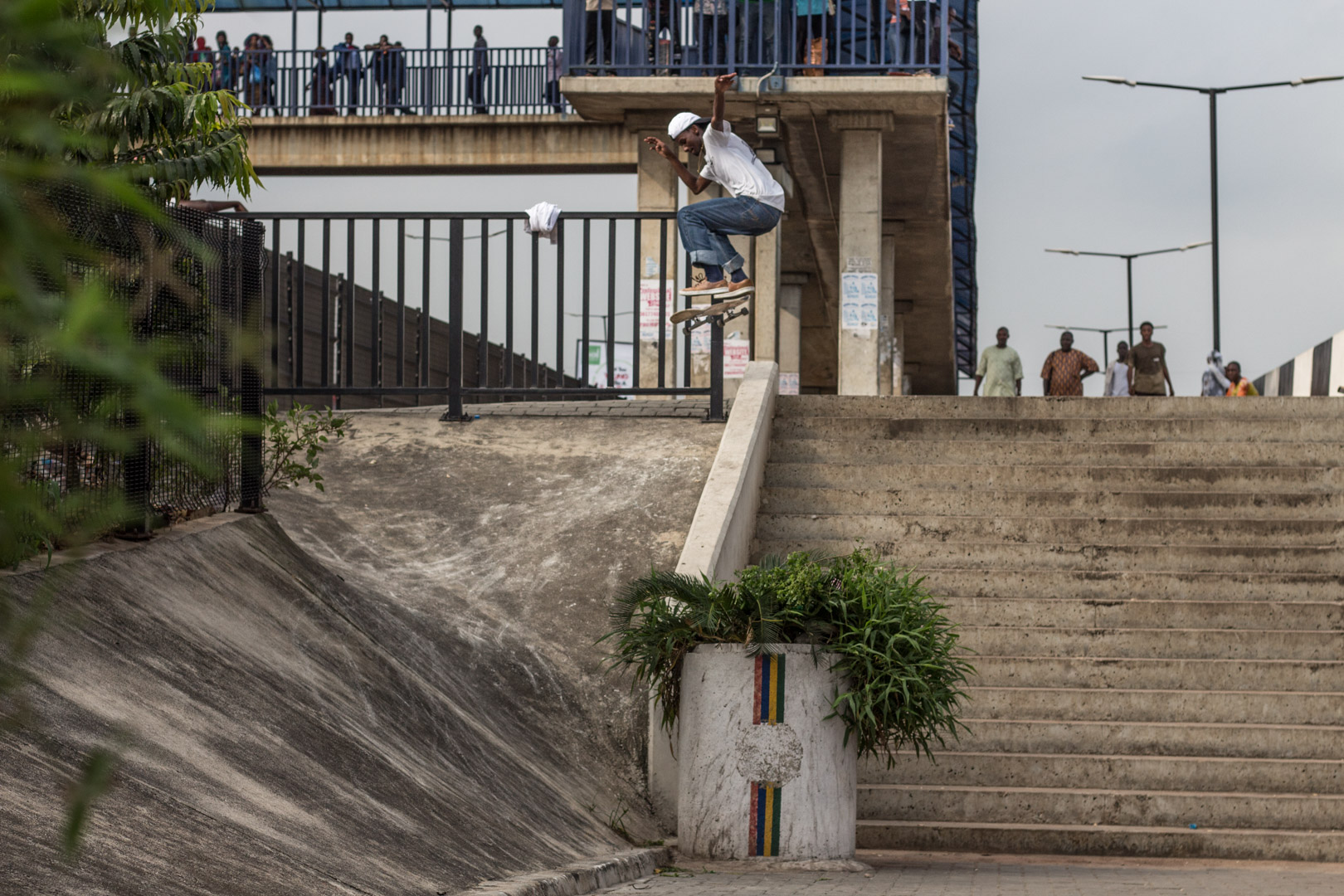 Kagiso Leburu kickflips into the bank.