Words by Reamo Leluma
Seven days, three teams, seventeen skaters, two filmers and one photographer… When Warren Stopforth – the founder and manger of Technique and Selfish Skateboards S.A., respectively – called me five months ago and told me that he had organised a tour of that magnitude; my first thought was 'how can you bring all these skaters together and expect to control the chaos that was sure to follow?' The answer is that he couldn't… not without help of True Bearings' founder, Gary Schlechter. Together they created an atmosphere where these three teams could be themselves but at the same time become something else… something both chaotic and unified.
This tour was the first time that most of these talented athletes had a chance to meet each other face-to-face. Recently, Technique Skateboards signed Allan Adams, Warrick Delport, Martin Stoffberg, Uri Rubin and Brandon Valjalo to the team, a unique variation of young-guns and veterans; tech, tranny and hammer skaters. The new additions just seemed to compliment the already up-and-coming Technique team: Marcel van der Walt, Dean Marais, Taylor Sturgess and me. The Selfish Skateboards team, which consists of Shuaib Philander and Wesley 'Tooth' Shroeder finally met the men behind the names, Derrick Shadrack and Adam Woolf, their newest team members.
Just to top it all off Gary threw in his True Bearings crew: Khule Ngubane, Anthony de Mendonca, Storm Reyneke and Karl van Antwerp.
So, what exactly do seventeen skaters get up to with unlimited potential, blank memory cards in their cameras and a 100km radius around Cape Town to skate? We had three options; shred it, kill & destroy it… and that is exactly what we did when we weren't making fun of 'Baby Sheckler' (Brandon Valjalo).
I arrived at the Beach House in Tableview and joined my newfound friends in getting up to shenanigans in the backyard, who were waiting patiently (in reality, they were pissed off) for us to arrive…late. We made our way to Green Point stadium and we quickly shut the spot down in less than three hours. Once everyone had accomplished what they intended to and eaten a sufficient amount of McDonald's we retired to the Beach House for a braai and some beers in Blouberg.
The next day, Some of us had to recover from our hangovers and injuries from the previous day but by 12pm we were ready to roll and we found ourselves at "The Rink" in Strand for a warm up session.
Once everyone was ready to hit some street spots, we headed over to Satan's Gap. It was then and there that we all realised that Allan Adams would claim the title of MVP of the tour. He landed five tricks down the gap within the time it took everyone else to land one trick. Highlights of the spot were Storm's switch hardflip and Allan's switch bigspin heelflip.
Wednesday was a fun-filled day of park skating! We spent the entire day shredding the Langebaan Park until the park was completely unrecognisable! From that day onwards, any trick done in that park would have been done before.
The following day was day of jumping out of trees in Hout Bay, team photos and an insane night session on UCT campus. One of the best days of the tour and disappointment for the man that missed it, me. I quickly got over it because the very next day we moved onto the 'Rondebosch Humps', which was both literally and figuratively a playground for everyone on tour. The guys were getting really creative with their lines, their bangers and their mash. Almost everyone had gotten something good down at the spot. Although, when I had finally landed a trick at the spot, no one was filming. After bleeding enough for the entire team, I convinced everyone to move on to the next spot so that we could get more footage before it got too dark to film. We headed over to a school somewhere in Rondebosch and had a late evening session on some handrails, which Carl killed, Warrick killed and to everyone's surprise, Gary killed. All-in-all everyone had a good session that day.
Everyone needs a day to lick their wounds; Saturday was one of those days… We took it easy and had a free-for-all, best trick session at the newly established "Diversity Distribution HQ", commonly known as the Boardbox. Beers went down and tricks went down harder. Some of us that were over the age of 18 went out to Mercury afterwards for a jol… that's when things got a little blurry!?
After Saturday night, we 'faded' back in and headed for a late afternoon hammer-down at the Sea-Point handrail on Sunday. Words can't even describe how amazing it was to watch all the tricks that went down there in our tired, broken and purely overworked states. The filmers were ready to retire, Tooth wasn't "The Machine" anymore but he still… we all still… made an impossible situation possible. After just another day in the life of some skaters, we headed back to Table View for the last time. When we called it 'a day', our memory cards were full, our bosses were satisfied, Warrick and Taylor were in jail for the night, Martin was in hospital and it all ended as it began… in chaos!!!! Shout out to Technique Skateboards, Selfish Skateboards S.A and True Bearings for making this happen, "Word is Born MOFO."
Photos by Eric Palmer and Jono Kay
Sequence by Grant Mclachlan

20SK8 General Shuaib Philander documenting the troops.

Uri Rubin Kickflip.

Reamo Leluma Varial Heel

Warrick Delport backside 180.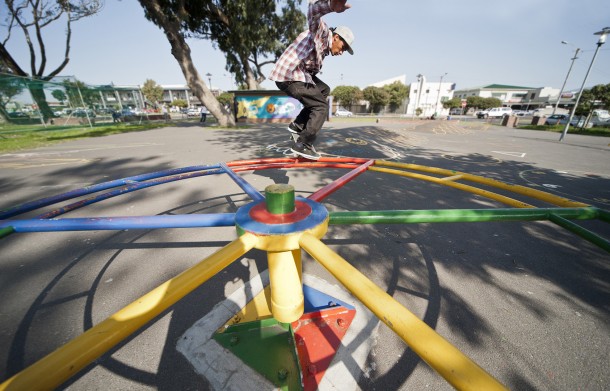 Warrick Delport crooked grind.

Wesley 'Tooth' Schroeder 360 shuv.

Storm Reyneke switch hardflip.

Martin Stoffberg taildrop.

Khule Ngubane Half cab noseslide bigger-spin.

Taylor Sturgess taking a breather.

Carl Smit Frontside lipslide.

Brandon Valjalo feeble grind.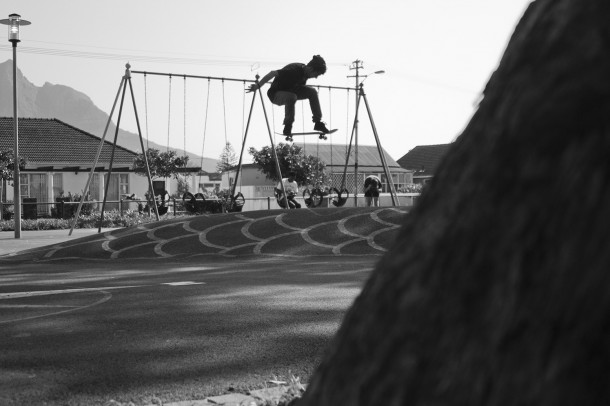 Anthony de Mendonca backside 180.

Allan Adams Varial Heel.

Adam Woolf Smith grind.

Adam Woolf Kickflip.